Following the successful funding of Herb + Stone Beauty Kickstarter Campaign, I am thrilled to announce some exciting changes and progress that will transpire in the coming weeks. 
Many sincere thanks to the 30 backers who pledged $3,000 to make this dream and longing for improvement a reality! Most exciting news is that I have hired my talented friend and graphic designer Neil McCoy of Waystone Design to create artistic labels for Herb + Stone products. These labels are nearing the finish point and will soon be ready to print, all new-waterproof/oil-proof adhesives to apply to some beautiful new products! 
Along with the labels, I have made some other exciting improvements as well! 
Change No. 1: Original Facial Serum will now be known as Garden Seed Serum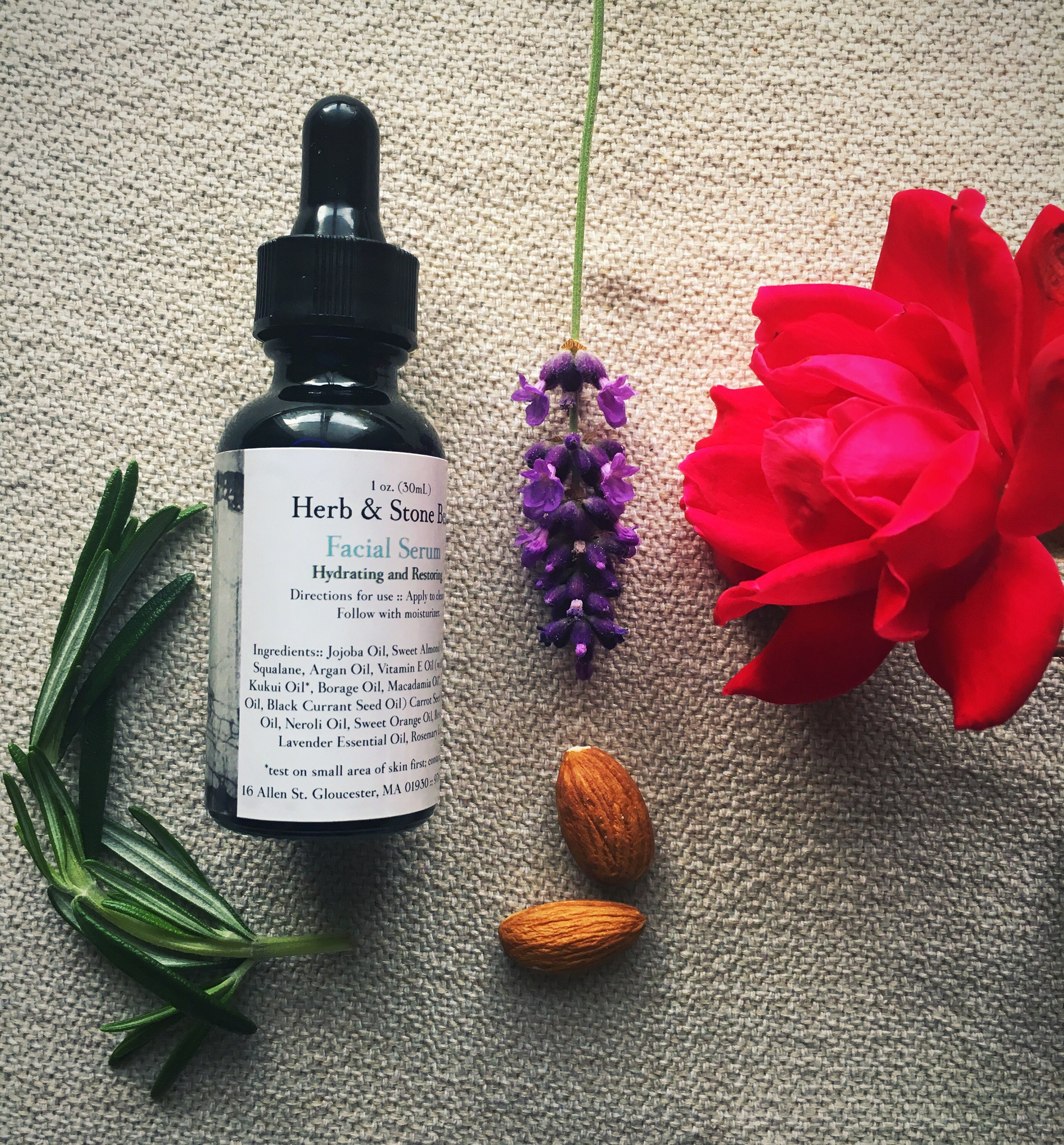 This original serum will now feature a new label, and be called Garden Seed Serum. This is because there are many wonderful seed oils and herbal essential oils in the formulation and this sweet title will distinguish it from my other two facial serums. The recipe will also now include Black Cumin Seed Oil (Nigella Sativa). This plant seed is a powerful and ancient seed that has long been used for beauty. It has also been shown in more recent studies to combat eczema and psoriasis as well as fungal infections. It is also used to help with scarring and softening and strengthening of the skin. I wanted to add it to this particular facial serum which is made for drier skin types, and for those prone to skin irritations. The black cumin seed oil is only minimally fragrant and cannot be otherwise detected in the feel or scent of this beautiful facial oil. 
Change No 2: Blue Facial Serum: BLUE STARFLOWER FACIAL SERUM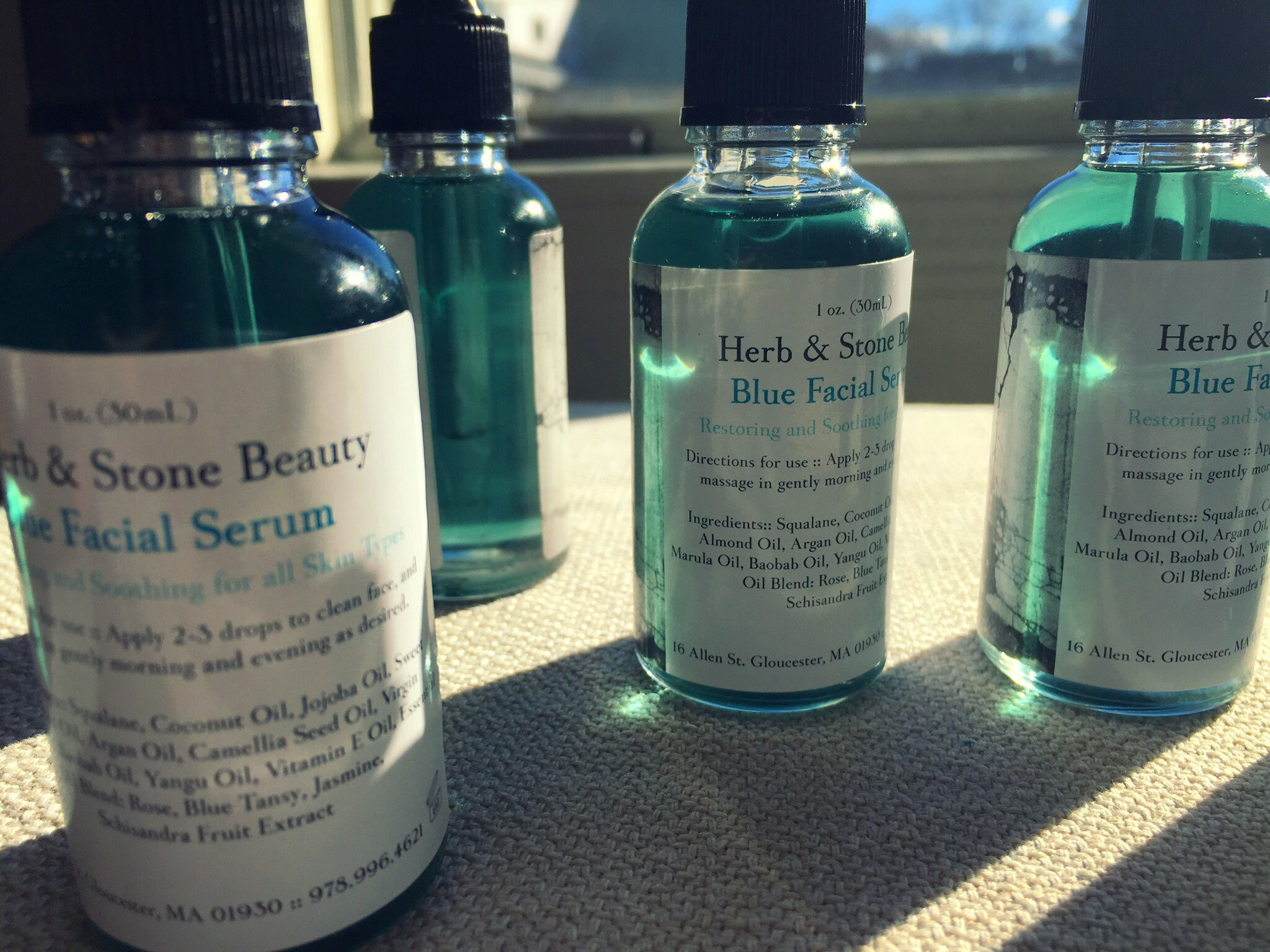 This lovely serum required some changes as well. I desired to create a serum that is specifically for acne-prone skin.  Blue Tansy Essential Oil is already the star of this formulation because homeopathically it is used to calm redness/irritation. The additional oils in the serum also need to do the same. Coconut Oil, in the previous recipe is really wonderful for many people and is chock full of anti-oxidants and nutrients, BUT it is also an allergen, and can lead to breakouts/rashes especially on the face. In order to lower the comedogenic (which means pore-blocking) effects of this product I had to substitute some of the oils for lighter more acne-combating ones. The changes are as follows: Instead of Coconut Oil, Marula Oil, and Yangu Oil: This new serum will contain Camellia Seed Oil, Macadamia Nut Oil, Black Cumin Seed Oil and Borage Seed (Starflower) Oil. These are all super stars when it comes to being non-comedogenic and healthful for acne-prone skin. I have renamed this serum Blue Starflower, in honor of the Borage Seed (as it is also known). The scent and color are still divine spring-time blue and hopefully the benefits to skin are now more clear.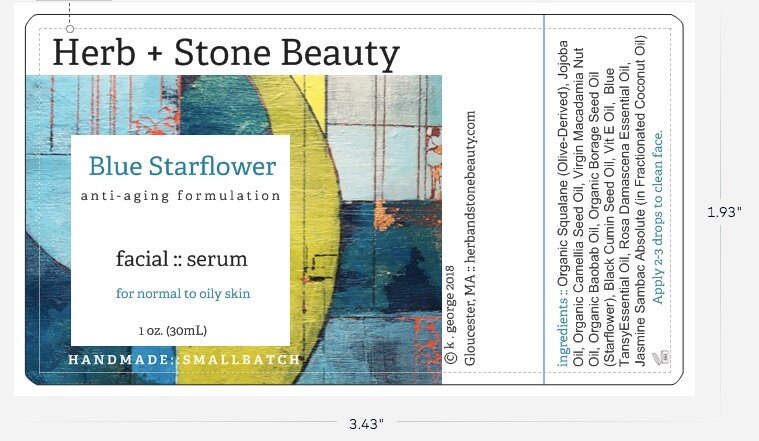 Change No. 3: Cedarwood Draught: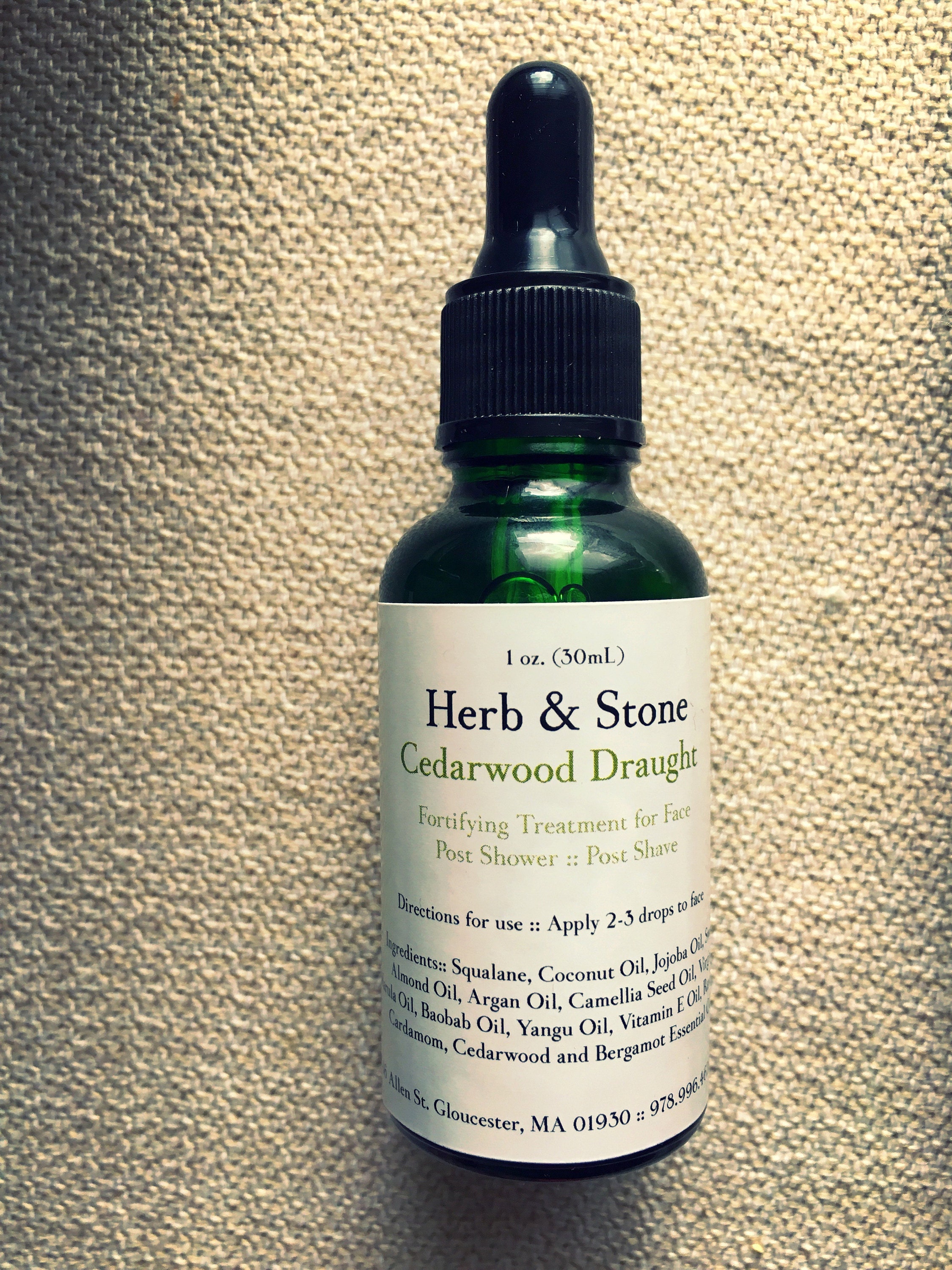 Likewise, Cedarwood Draught originally contained Coconut Oil and Marula Oil, which may cause breakouts for some. To make this a more universally wonderful treatment, I have decided to replace these oils with Black Cumin Seed Oil, which has many wonderful benefits for all skin types as described above. The new label will feature a beautiful coppery green painting.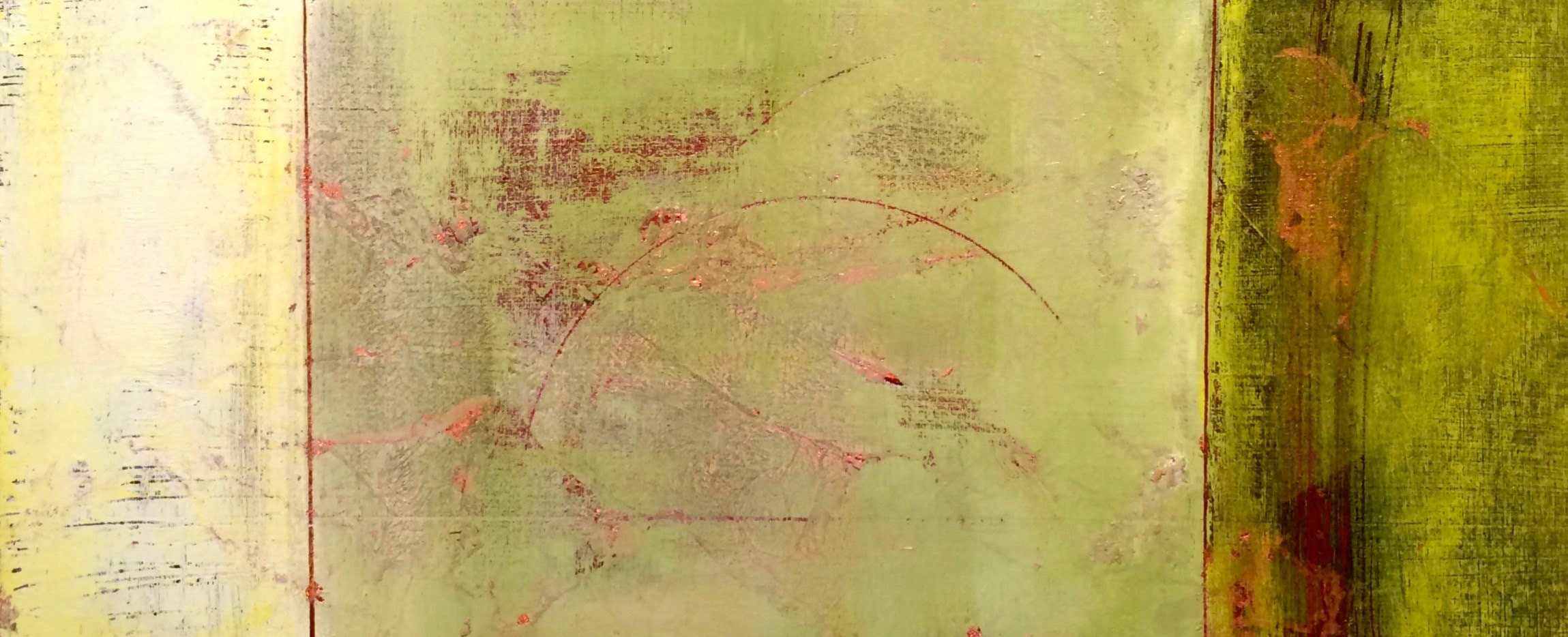 Change No 4: Flowered Whipped Body Butter: WILD GARDEN CREAM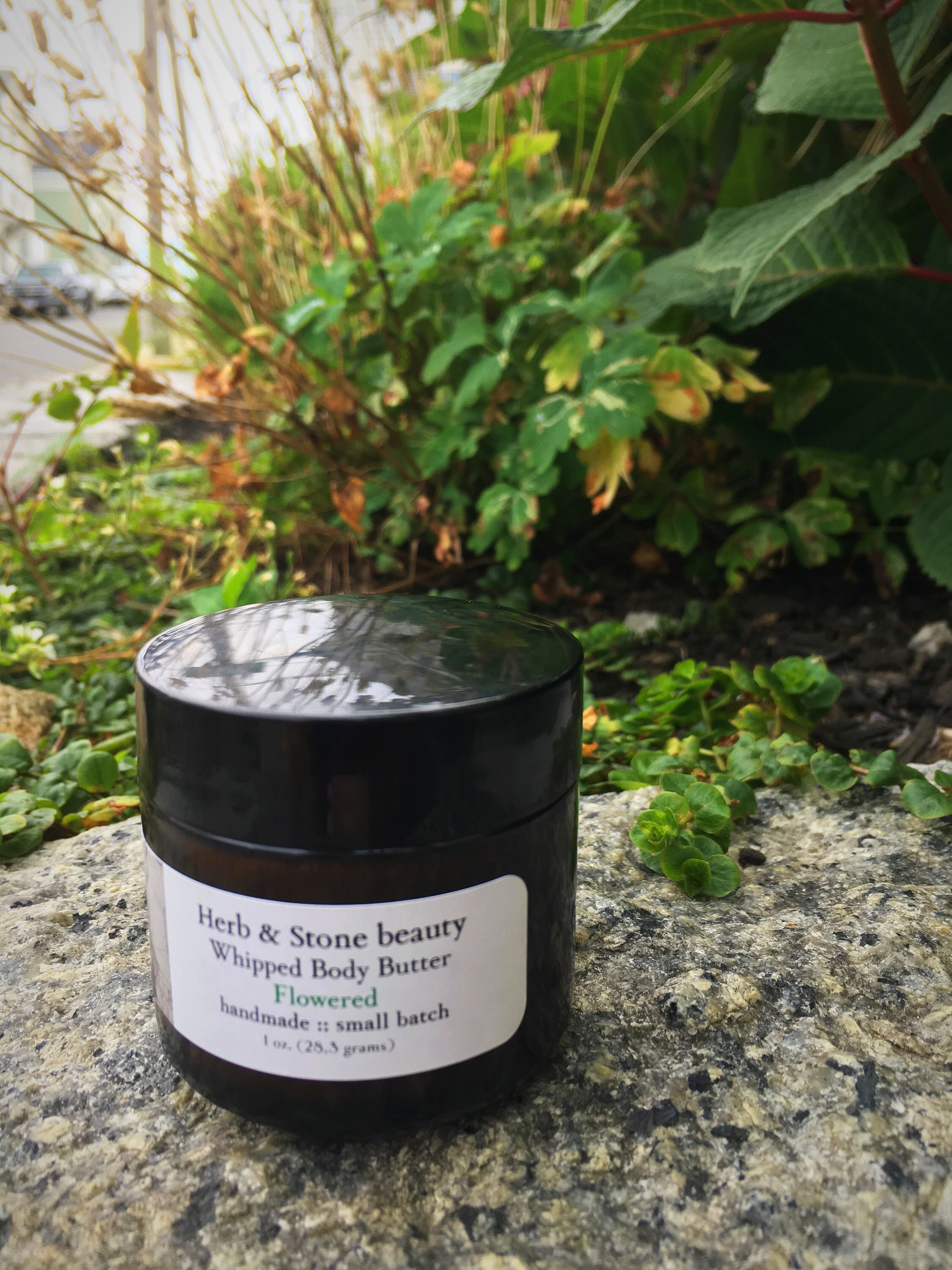 This is a fan-favorite, I know. However, some changes are necessary! It will still smell and feel the same. The change I have made involves the herbal infusion. This recipe contains 2 teaspoons of an herb-infused collection of oils I have termed "healing oil." In order to simplify the inventory for Herb + Stone, I needed to create a herb-infused oil that can be used in multiple formulations. I have several salves to offer which contain calendula-infused grapeseed oil, which is fast-absorbing and excellent for troubled skin, and so I have decided to substitute this for the much more complicated version I previously made. This body butter has really transformed into a hand cream, which is more practical, given that it is sold in 2 oz. I have also decided to package this cream in an aluminum tube, for the cool-factor and convenience to the consumer. It will now be called WILD GARDEN CREAM, and will still have the beautiful scent of lemon/lavender/rosemary/calendula that it previously had. It will feel just as soft, just as creamy, but now be simpler for me to make, and clearer in it's purpose.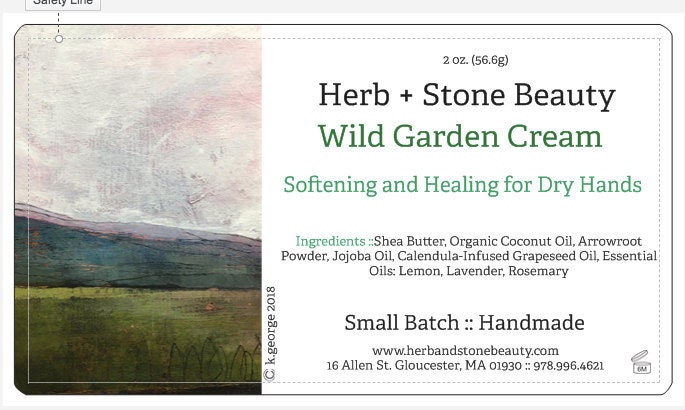 Change No. 5: Orange Vanilla Whipped Body Butter: BITTERSWEET ORANGE CREAM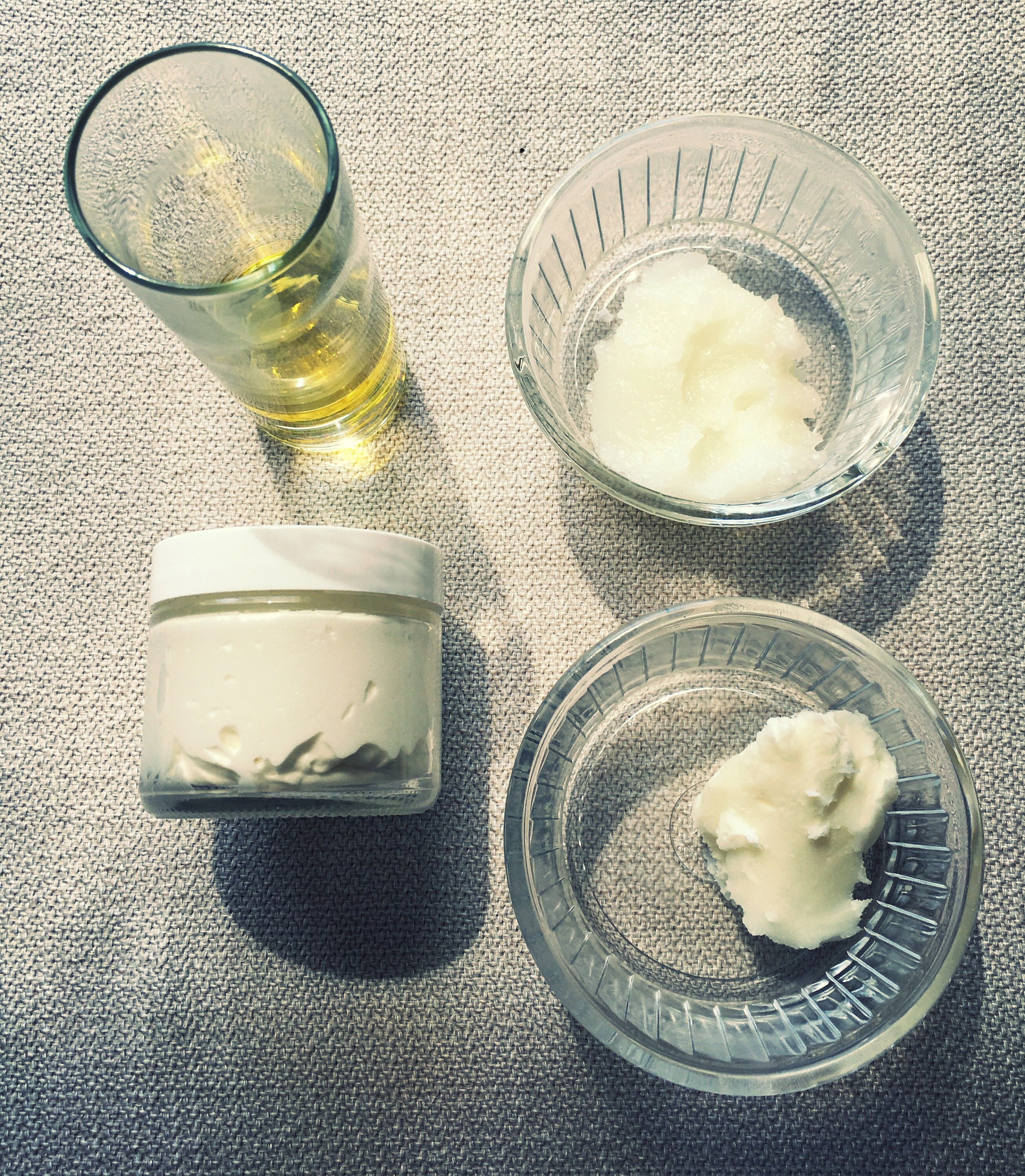 My first Herb + Stone recipe, but I wanted to grow it up a little. :) I also have changed this recipe minutely: omitted the vanilla and added Wild Orange Essential Oil and Bitter Orange Essential Oil: this cream now has a purely citrus scent, which I like better, and is more unisex. It will also be in an aluminum tube and be called a hand cream instead of a body butter. Its new name is Bittersweet Orange Cream and you will love it.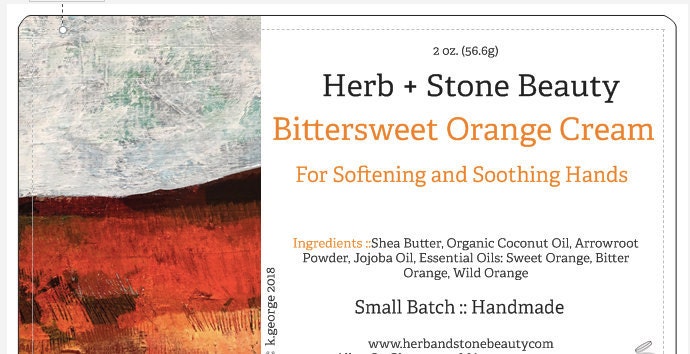 Change No. 6: Black Drawing Salve: BLACK BLEMISH SALVE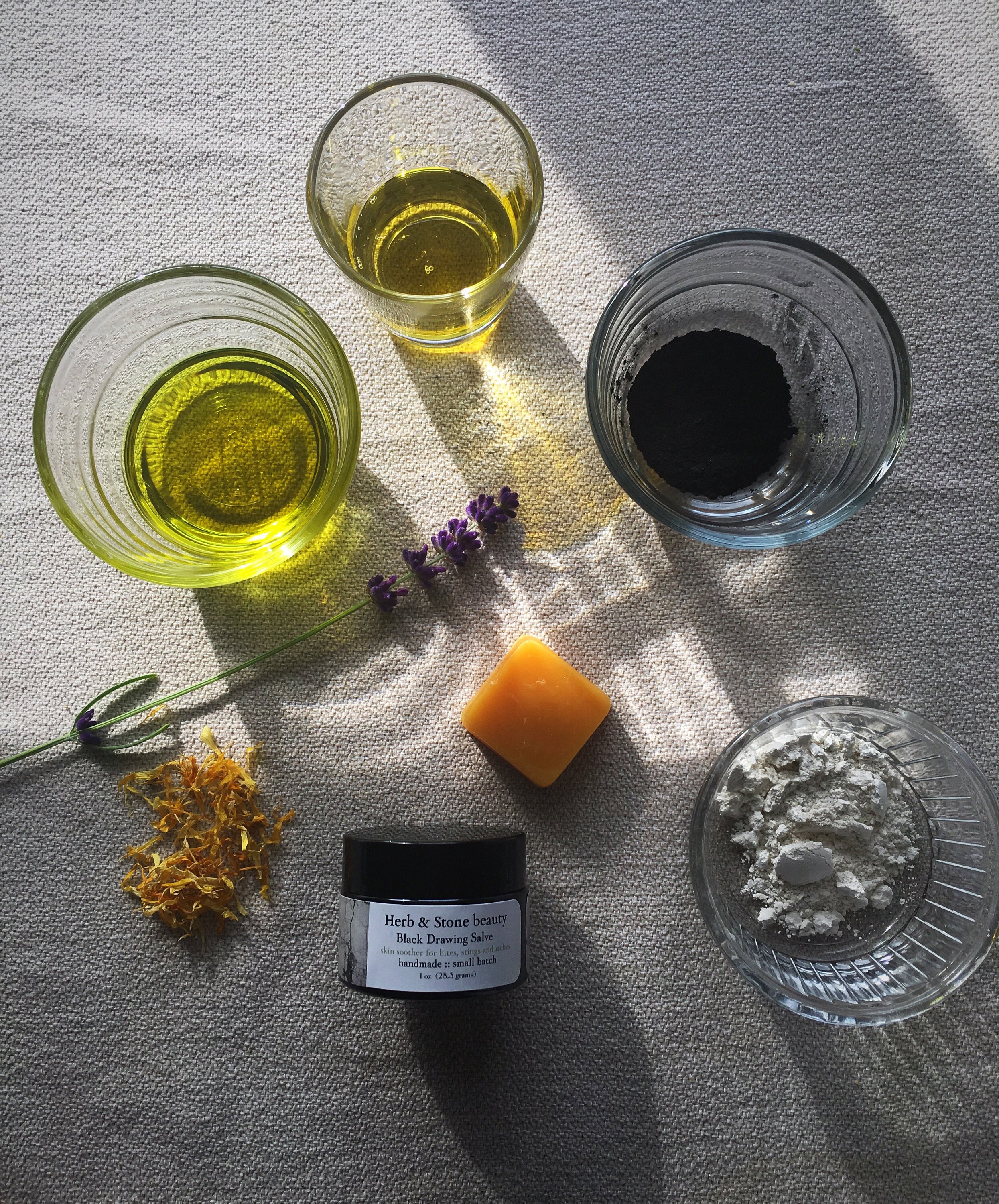 Again, to simplify inventory and revamp its purpose a bit: this black drawing salve, which is an adapted old amish recipe for removing splinters/soothing stings and rashes was found to have the added benefit of reducing the angry appearance of pimples. It is black, due to the added charcoal so best to apply as a night treatment. I decided to just go ahead and call this new formulation Black Blemish Salve to make its purpose for beauty clearer. I'm sure it will still relieve minor skin irritations for those inclined to apply it to mosquito bites or stings as well. To aid in the reducing of pimples however, I reformulated the recipe a bit as well by adding Tamanu Oil and Neem Oil, both of which have superlative anti-bacterial/anti-fungal properties. I also removed the Kaolin Clay which isn't necessary as the French Green it already contained is a stronger detoxing clay, and will more quickly pull out toxins from pores. In order to simplify the ingredients, this salve will also contain Calendula infused Grapeseed Oil instead of the laborious "Healing Oil" previously used. In small doses, I chose to add Marula Oil and Rosehip seed oil for their added anti-oxidant and healing properties. In small amounts to targeted areas, the benefits of these beautiful oils outweigh their potential for pore-clogging-they are among the ingredients that are included in many top-quality natural skin-care brands for troubled skin...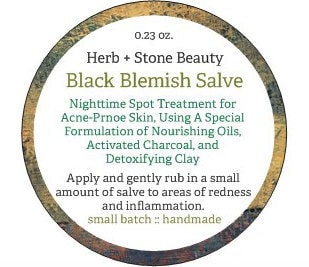 Change No. 7: Original Facial Cream: SILK AND SUN FACIAL CREAM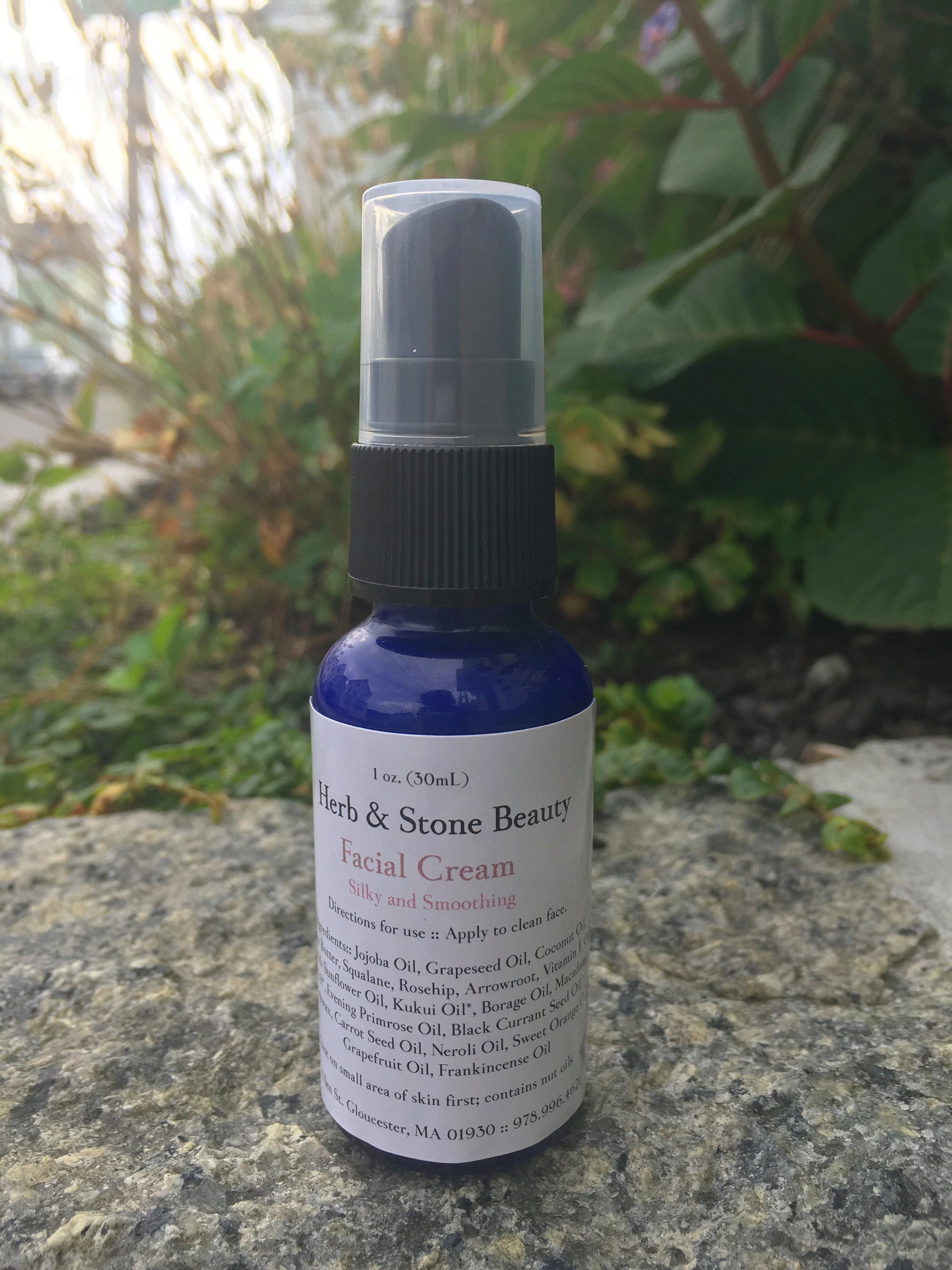 With its blossomy sweetness, there wasn't much to change. The biggest change is its new name: Silk and Sun. This name is appropriate because the color is a deep yellow/orange and the cream truly feels as soft as silk. I have also included the essential oils Rose Geranium and Helichrysum (Immortelle) and Jasmine Sambac Absolute for their therapeutic benefits. I find in combination with Frankincense, Neroli blossom and Sweet Orange, these new oils are truly delightful to smell. In addition, the label now specifies that this cream is great for especially DRY skin. I have made it clear that because this cream doesn't contain any chemical emulsifiers it  tends to solidify or form tiny soft granules in cooler temperatures. With the new water/oil proof labels, it is simple to reliquify this cream by submerging the bottle in hot water for a few minutes- this will NOT harm Silk and Sun Cream or change it's effectiveness. Of note, The granules are simply solid crystals of Shea Butter which can occur when the cream cools. The only other necessary change was in the formulation of Vitamin E Oil. Previously I had purchased a wonderful Vit E combo oil, but it became cost-prohibitive so I decided to make my own in bulk form: this consisted of combining pure vitamin E oil (which is very viscous and expensive) with some good carrier oils in similar but not EXACT formulation as previously: Thus, Silk and Sun contains the new Vitamin E oil combination: (pure vit e, sunflower oil, safflower oil, kukui Oil, borage seed oil, macadamia oil, evening primrose oil with black cumin seed oil). Each carrier oil has a multitude of benefits, most of which I have already specified.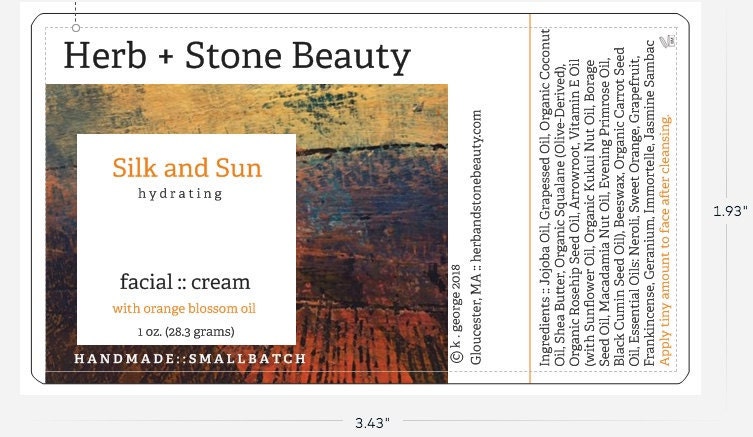 Change No. 8: Sweet Salt Body Polish: AMBER SALT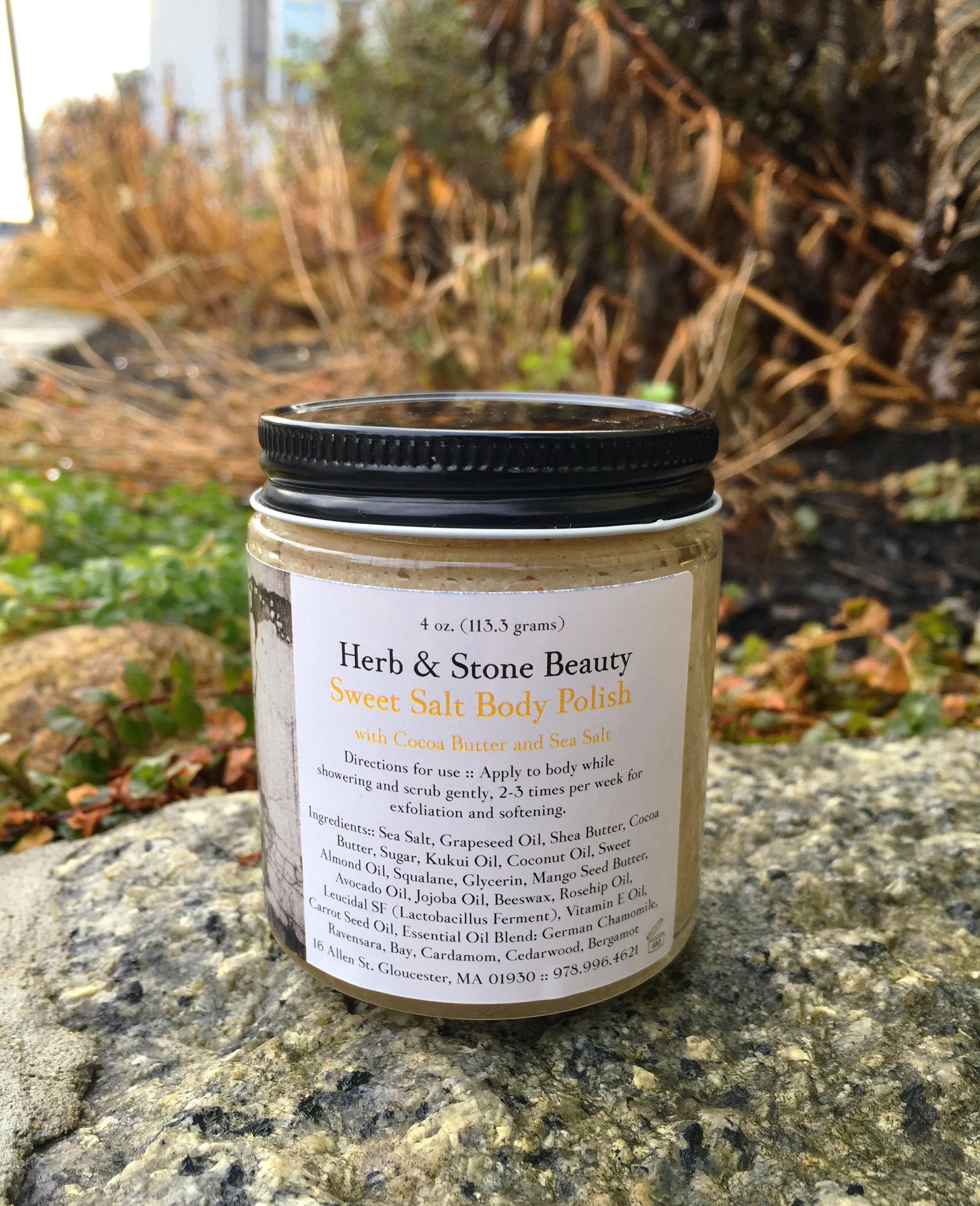 I love this stuff, I really do. I use it every time I shower. However, I am pleased to announce for those who don't know, that there is such a thing as Amber Powder in cosmetics. I have always loved amber; that magical and ancient jewel from trees. In my research over these last few delightful weeks as business came to a halt but Kickstarter was gearing up, I discovered a place to purchase Amber for cosmetic purposes. A finely ground stone powder for exfoliation purposes and I was delighted to add some to this beautiful product. I also eliminated most of the the essential oils from the original recipe in favor of more exotic scent of Fossilized Amber oil. I kept Cedarwood oil in the recipe because of the tree connection, also because it balances the other scent nicely. Needless perhaps to say, this new salt/sugar scrub will be titled Amber Salt. This is a beautiful improvement. 
Change No. 9: Rosewater Toner: SILVER ROSE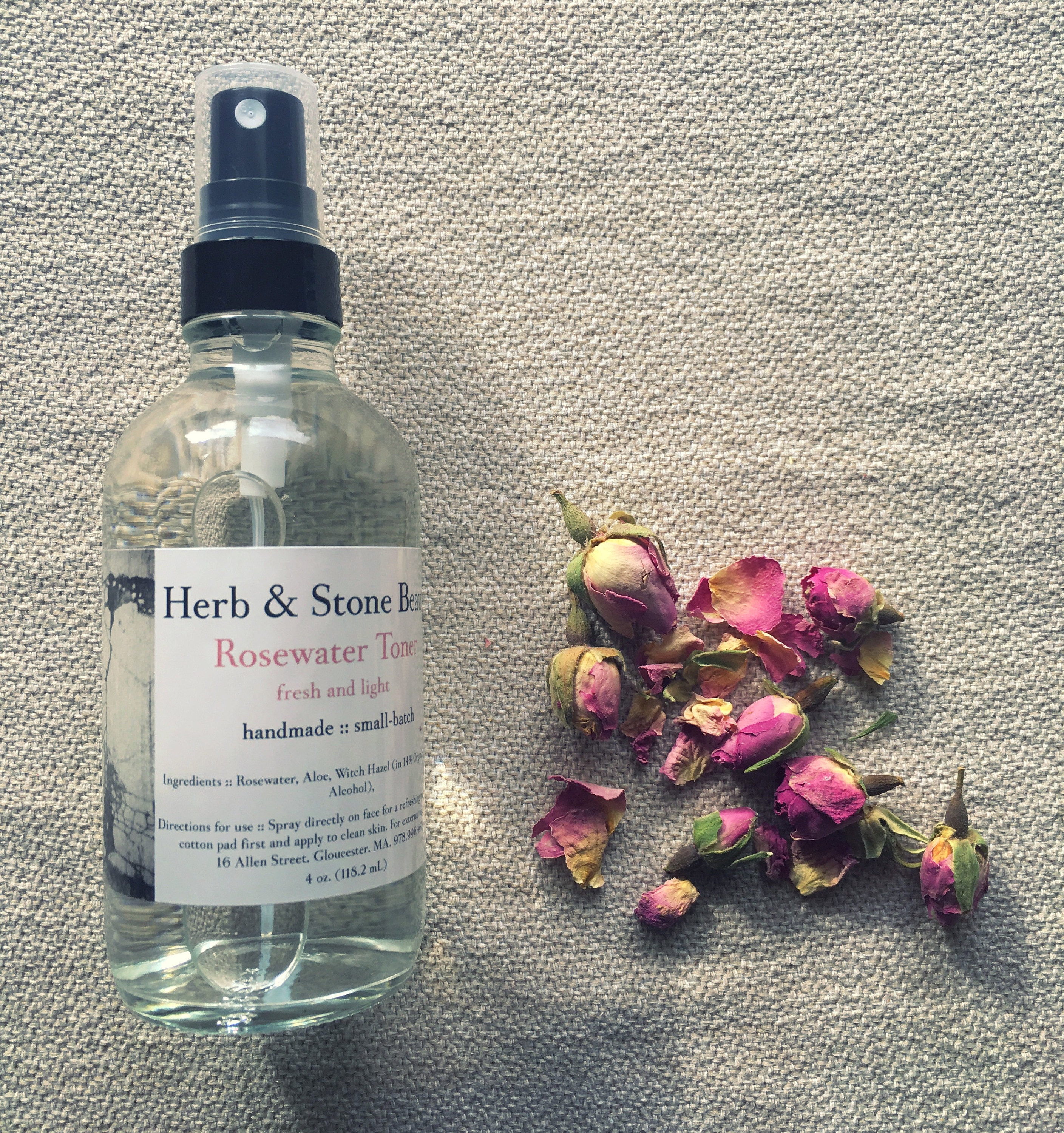 The improvements to this recipe are personally measurable to me: Although there are some I haven't been able to test yet. First: I will purchase a much higher-quality and more expensive Rose Hydrosol when the Kickstarter funds clear, and this will be the base for this toner. The Rose Hydrosol is made by Eden Botanicals, a truly beautiful company from which I am slowly converting my entire stock of essential oils. From the description on the website: "Our exquisite Rose Hydrosol is a certified organic, 100% pure and natural food-grade product that does not contain any additives, preservatives or synthetic substances....Our hydrosols are distilled using fresh plant material that not only allows capture of all the volatiles, but most importantly, the cellular water from the living plant. It is this cellular water, imbued with nutritious minerals and fatty acids, that make it dynamic and vibrant compared to using dried out material with a loss of those important aromatic and therapeutic molecules. Aromatic hydrosols contain the water-soluble active principles of the plant. They retain a tiny amount of essential oil compounds...and are subsequently unlikely to cause skin irritation. They are also a profound and delightful way to experience and appreciate the life force - with all its potentiality for wholeness - found in the aromatic waters of the plants."
In addition to this hydrosol, I have added the herbal extract Gotu Kola, which has anti-aging/skin-firming properties as well as Colloidal Silver-a naturally anti-microbial element, beneficial to skin. There are some controveries surrounding the use of colloidal silver, so I wanted to make sure used the correct type. Among all the research I did, I found this information the most helpful and purchased my Collloidal Silver here.
Since using this new formulation, (even without the higher quality rose hydrosol), my skin clarity has improved, I'm totally smitten.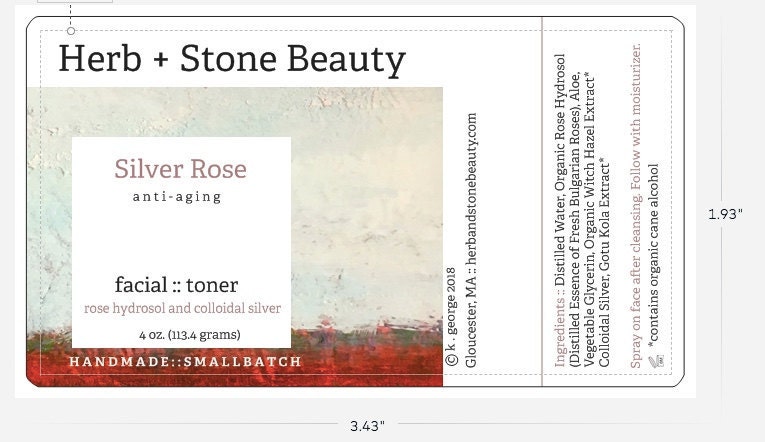 And finally, Change No. 10: Cinnamon Clay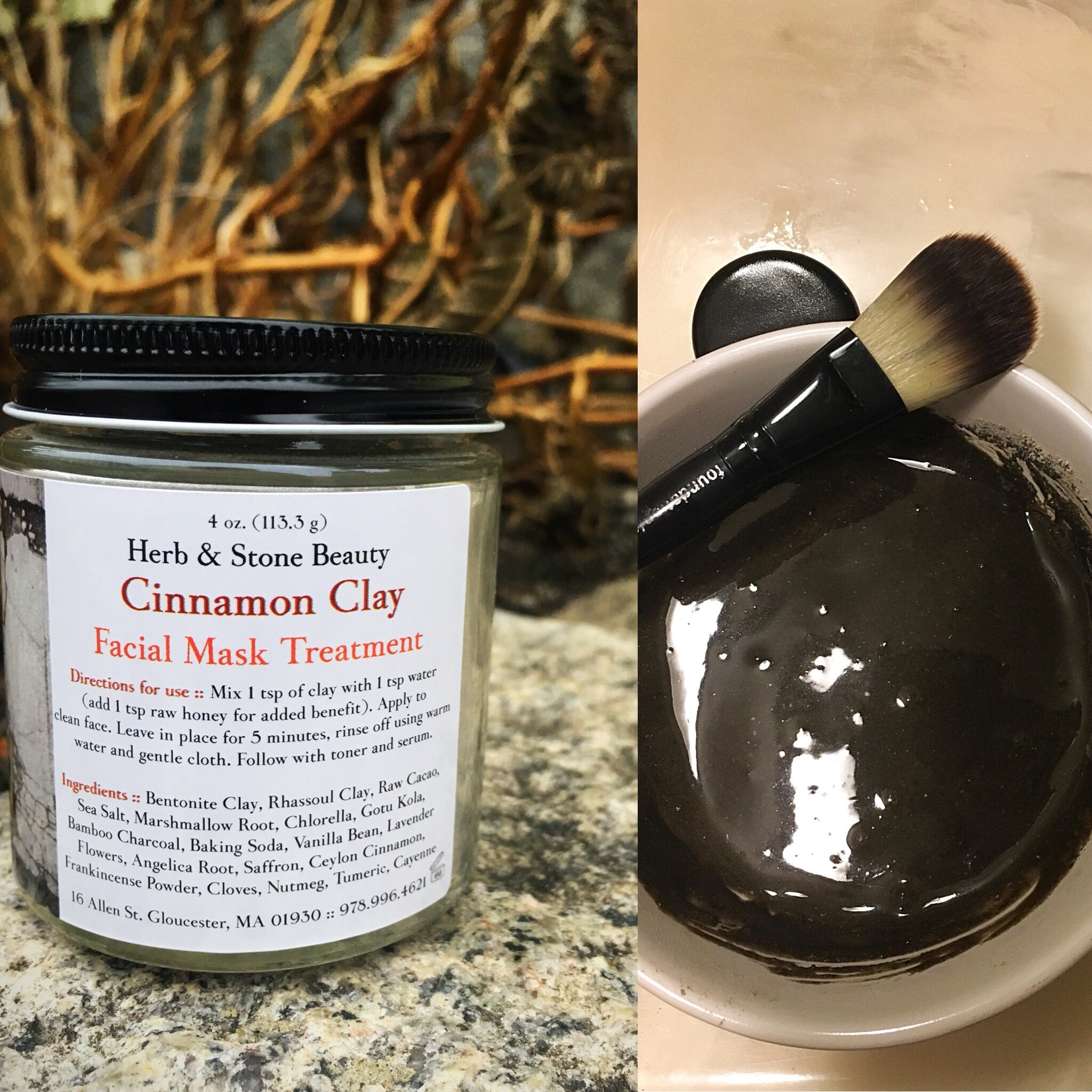 A small change, really: the addition of Vitamin C powder, L-Ascorbic Acid, in small quantities has powerful anti-aging qualities; decreasing fine lines and treating sun-damaged skin. 
In addition to these changes, I will introduce two new quality products in the coming weeks...stay tuned!