Winter is so hard on skin. Here are some details on the newest Herb & Stone offerings. Introducing treatments for dry, cracked skin in desperate need for soothing. 
First: After many starts and fits, I've found a facial cleanser that I am in love with: 
Honey Wash is a beautifully creamy honey and oil based soap cleanser. It foams up great and rinses very easily. It is full of powerful and special ingredients that have been so great for my sensitive winter skin.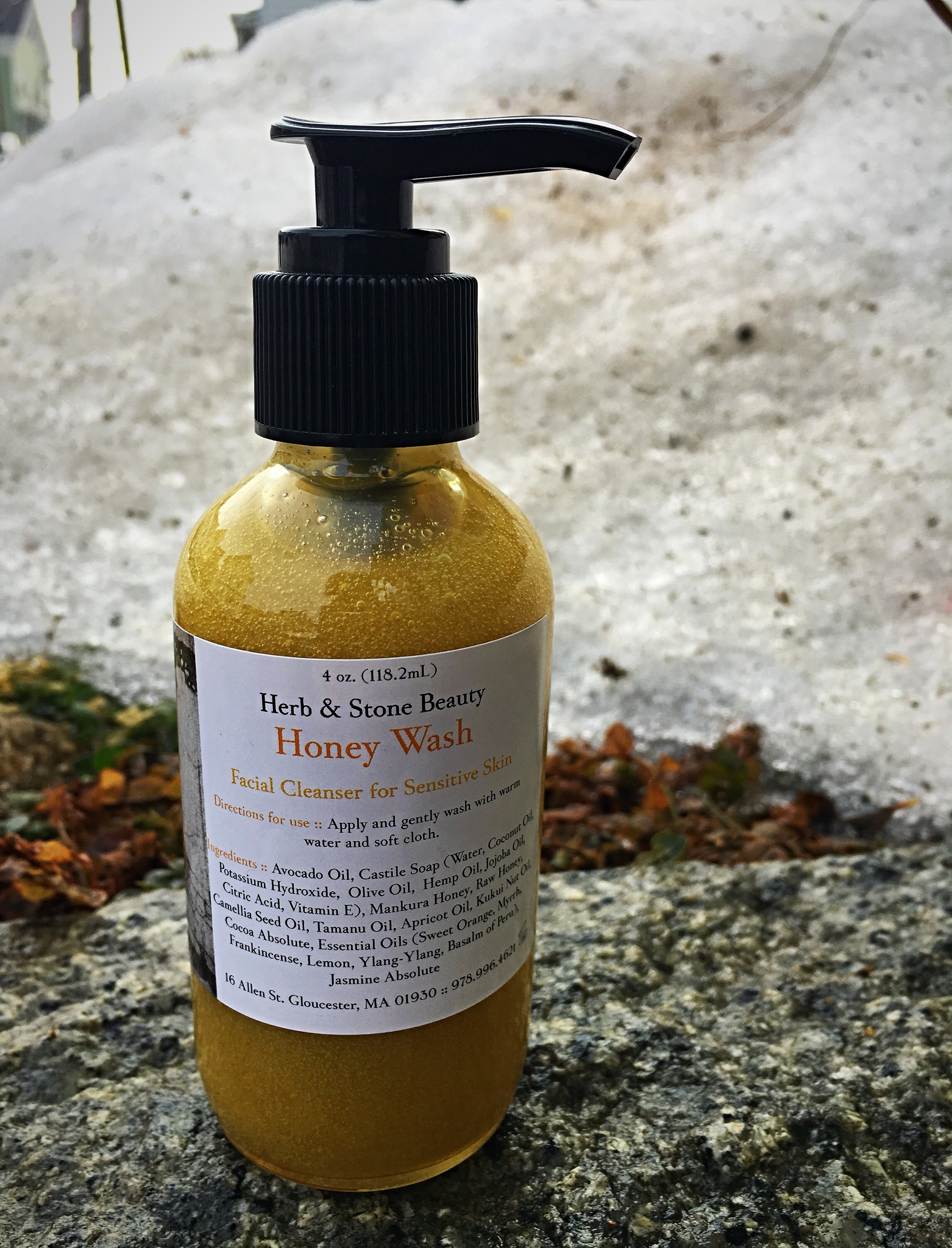 A breakdown of some of the special ingredients: 
Tamanu oil is a thick, glossy, cold-pressed oil obtained from the Tamanu tree (Calophyllum inophyllum). It originates in Vietnam, and has a strong, deep scent and a vibrant green color. Tamanu oil contains essential fatty acids and is used to rejuvenate aging or troubled skin.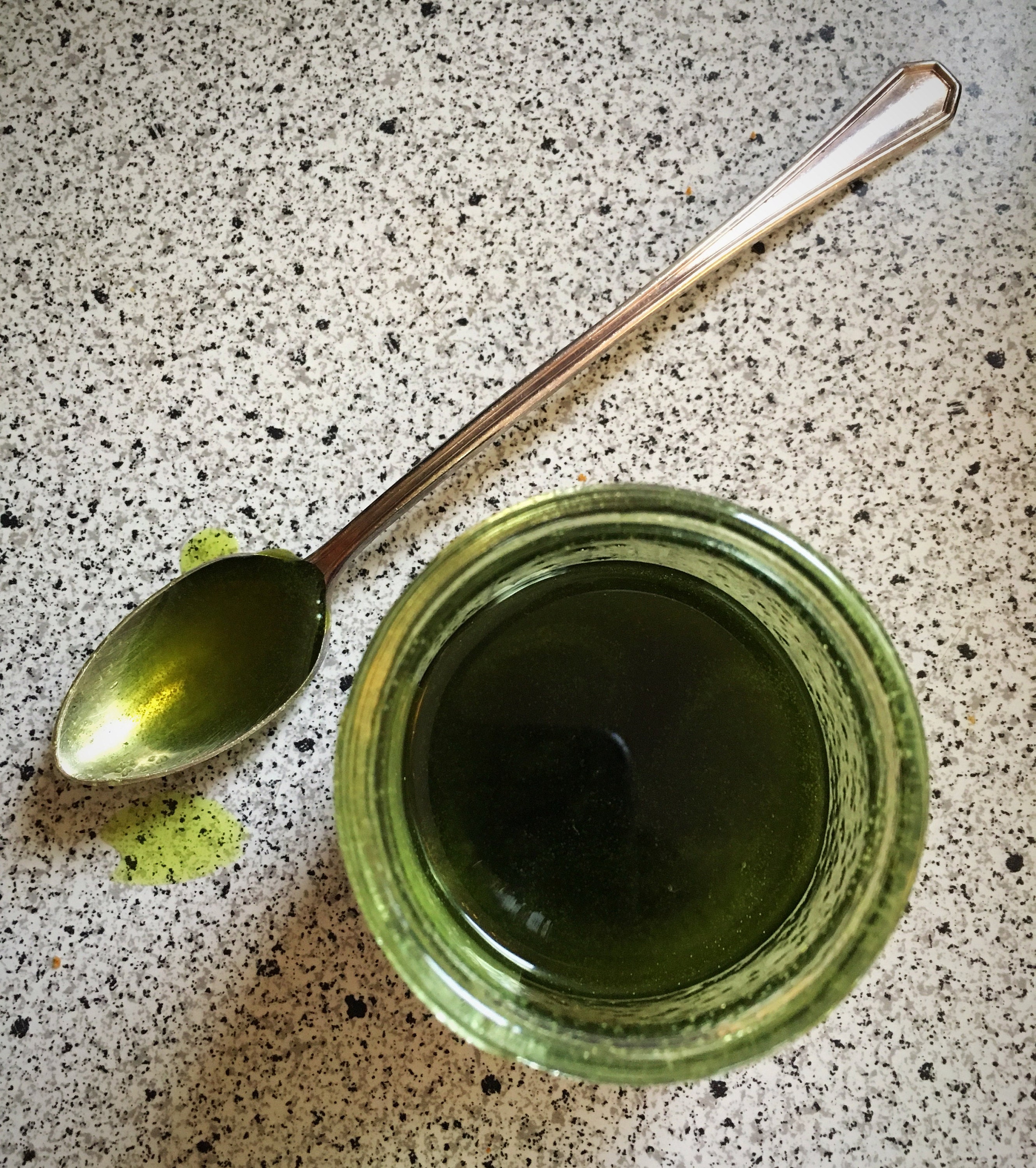 Camellia Seed Oil is also a fantastic beauty oil, used for centuries in China and Japan, it is superbly skin softening.
Added to these precious oils is the naturally anti-bacterial Manuka honey. This honey is very special, and comes from the tea tree specific to New Zealand. Mankura honey contains a host of benefits for your skin and has been used historically for treating wounds and irritating skin infections.
This formulation is also prepared with a small amount of castille soap (I use Dr. Bronner's unscented), which is made from organic oils and is helpful in creating a rich lather; it also allows the cleanser to be washed off skin with minimal rubbing.
Other Ingredients: Avocado Oil, Castile Soap, Raw Honey, Apricot Oil, Kukui Nut Oil, Cocoa Absolute, Essential Oil blend (Sweet Orange, Myrrh, Frankincense, Lemon, Grapefruit, Neroli, Ylang-Ylang, Balsam of Peru, Bergamot), Jasmine Absolute.
This is a 4 oz. clear glass pump bottle. $32
Next, I bring you: Winter Raven Cream. A simple but spectacular formulation designed for my husband, a working man whose skin tends crack and bleed...if this sounds familiar, I recommend this soft ointment. It goes on very easily, and is made with a super nourishing combination of Baobab Oil, Kukui Nut Oil, Grapeseed Oil, Coconut Oil and Shea Butter; a perfect no-fuss remedy for chapped and raw hands. It has a subtle scent, using quite masculine essential oils: Cedarwood, Bay, Ravensara, Cardomom and Bergamot. I use arrowroot in my cream recipes to cut back on the greasy feeling, but this one still needs to be rubbed in a bit-don't worry, it will absorb and soon those chapped hands will be relieved!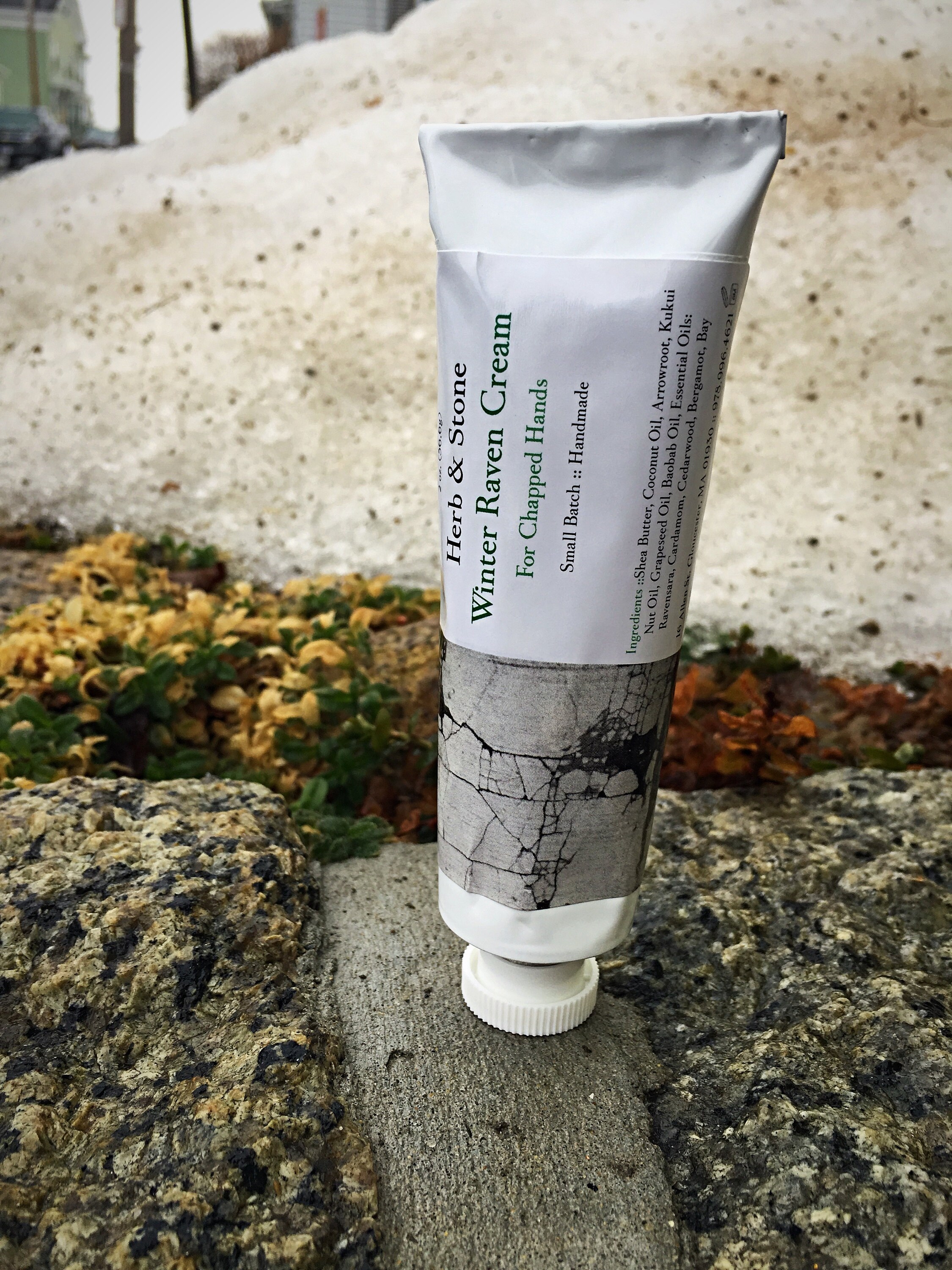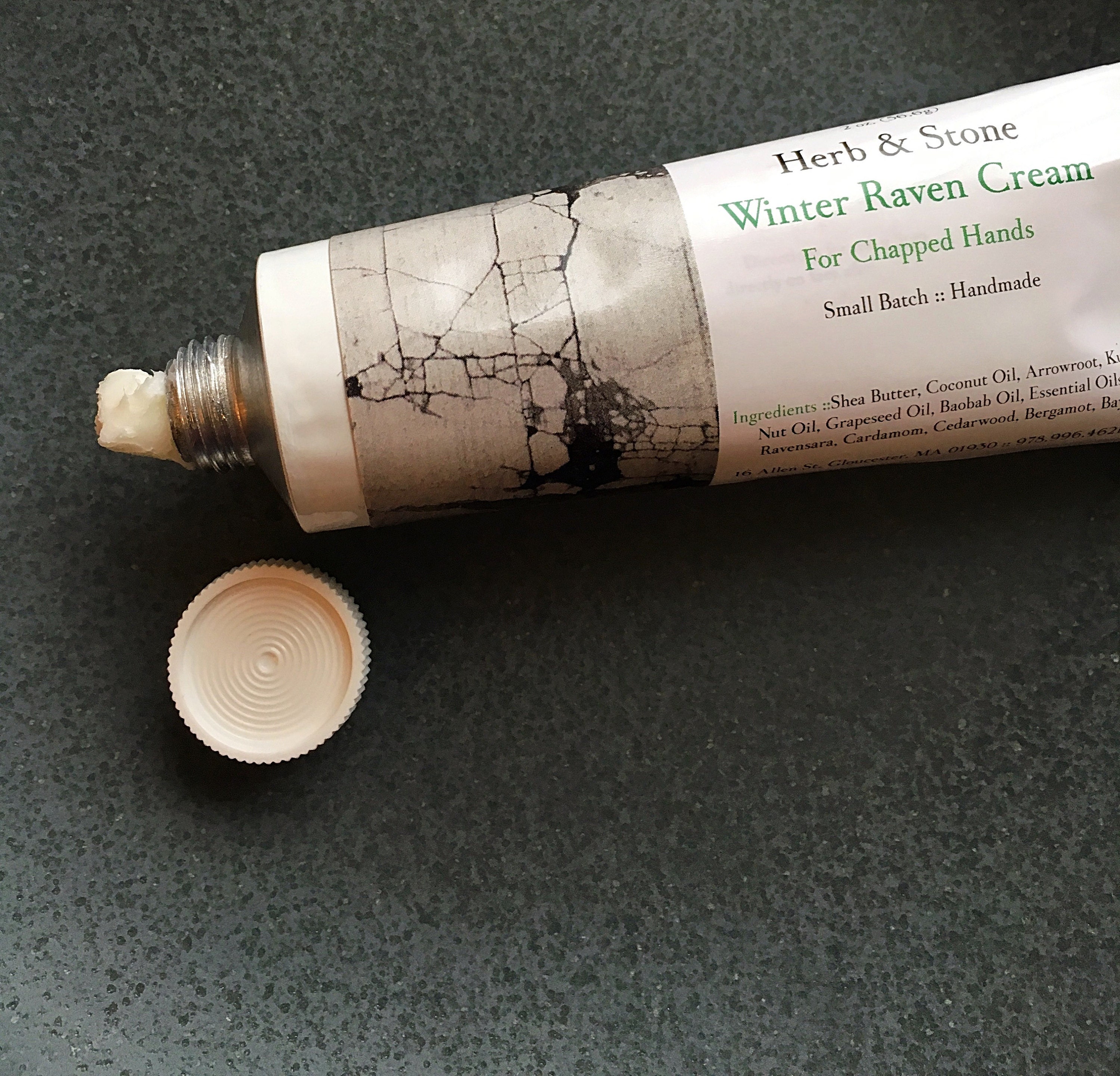 Also please note the cool aluminum tube this cream is lovingly cased in. Very fun, but a PAIN in the rumpus to fill by hand. A little of this cream also goes a long way, 2 oz. is plenty to get you through this winter. $17
Next: Eczema Relief Healing Ointment. For the temporary relief of the god-awful red scaly areas on your face and body. This is not an original recipe, but one that was freely offered on the interweb, so I made it, tested it and am happy to re-offer it among Herb & Stone's collection of medicinal salves. It includes a good amount of Calendula infused Castor and Sunflower oil-both of which have skin calming properties and vitamins beneficial for aging skin. This is a soft, easily absorbed salve to apply to areas of skin plagued by redness or dryness, OK for sensitive faces but also for dry patches on body.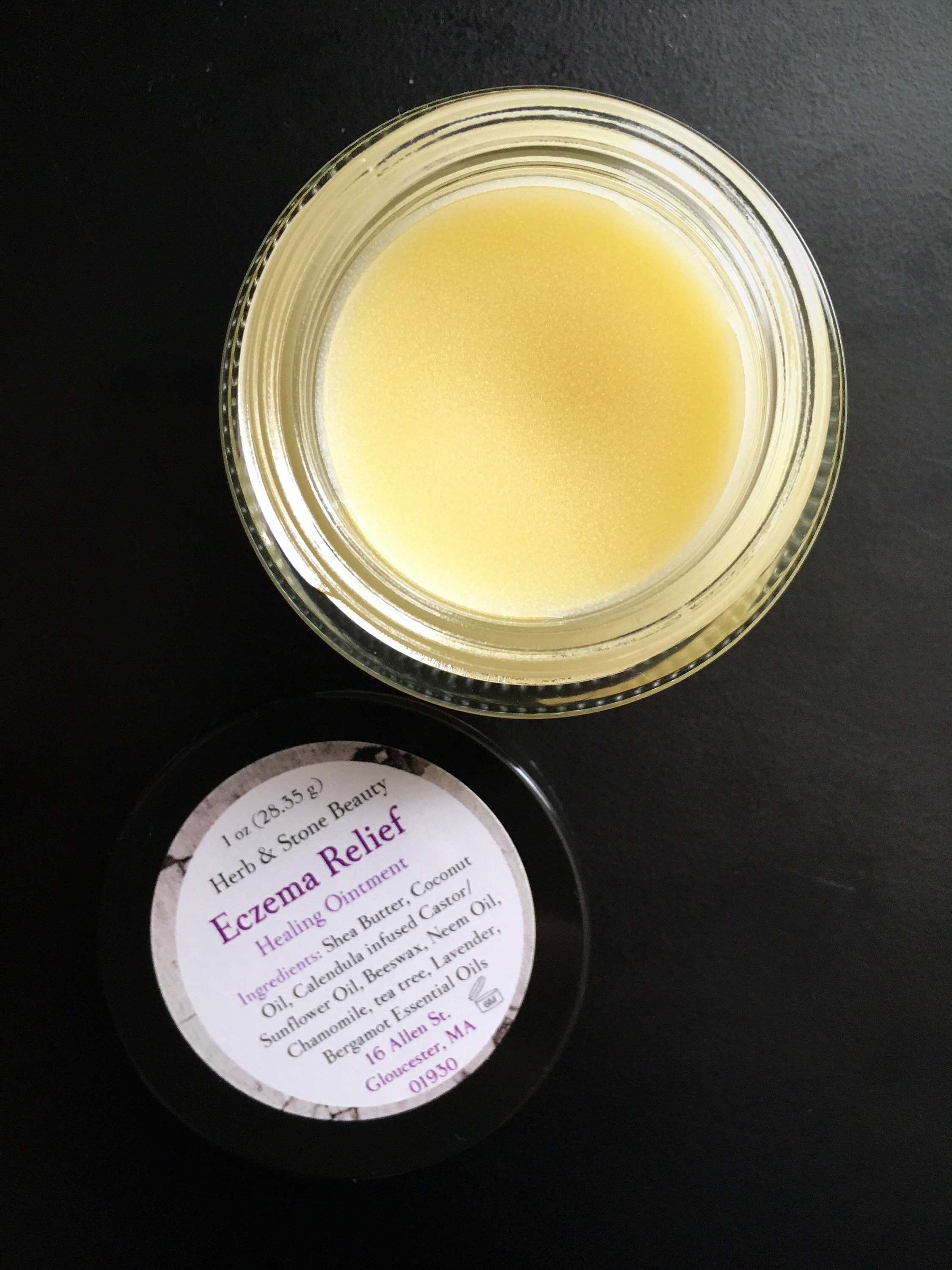 The indispensible ingredient in this salve is Neem Oil, which is extracted from the seeds of the Neem tree, an evergreen native to India and long used for it's anti-bacterial, healing properties. It also repels insects and fungus and is commercially used in organic gardening! It's medicinal properties are helpful in this salve to relieve dry and irritated skin. Neem is quite strong-smelling-it is used in small but effective quantities for the salve, but be aware the scent is quite full and nutty, but does fade a bit after application. To say the least, this salve is not a "beauty product" in the usual sense! This is for folks who appreciate natural remedies and understand they may work better or worse than typical pharmaceuticals. Combined with a soothing base of Shea Butter, Coconut Oil, this salve also contains a skin-soothing aromatic combination of Essential Oils: Chamomile, Lavender and Bergamot, as well as Tea Tree oil for its natural anti-microbial properties. A little goes a long way for this salve, spare use is OK!
Packaged in a 1 oz. glass jar. $14
Lastly, Tumeric Toner: A healing tonic for sensitive skin.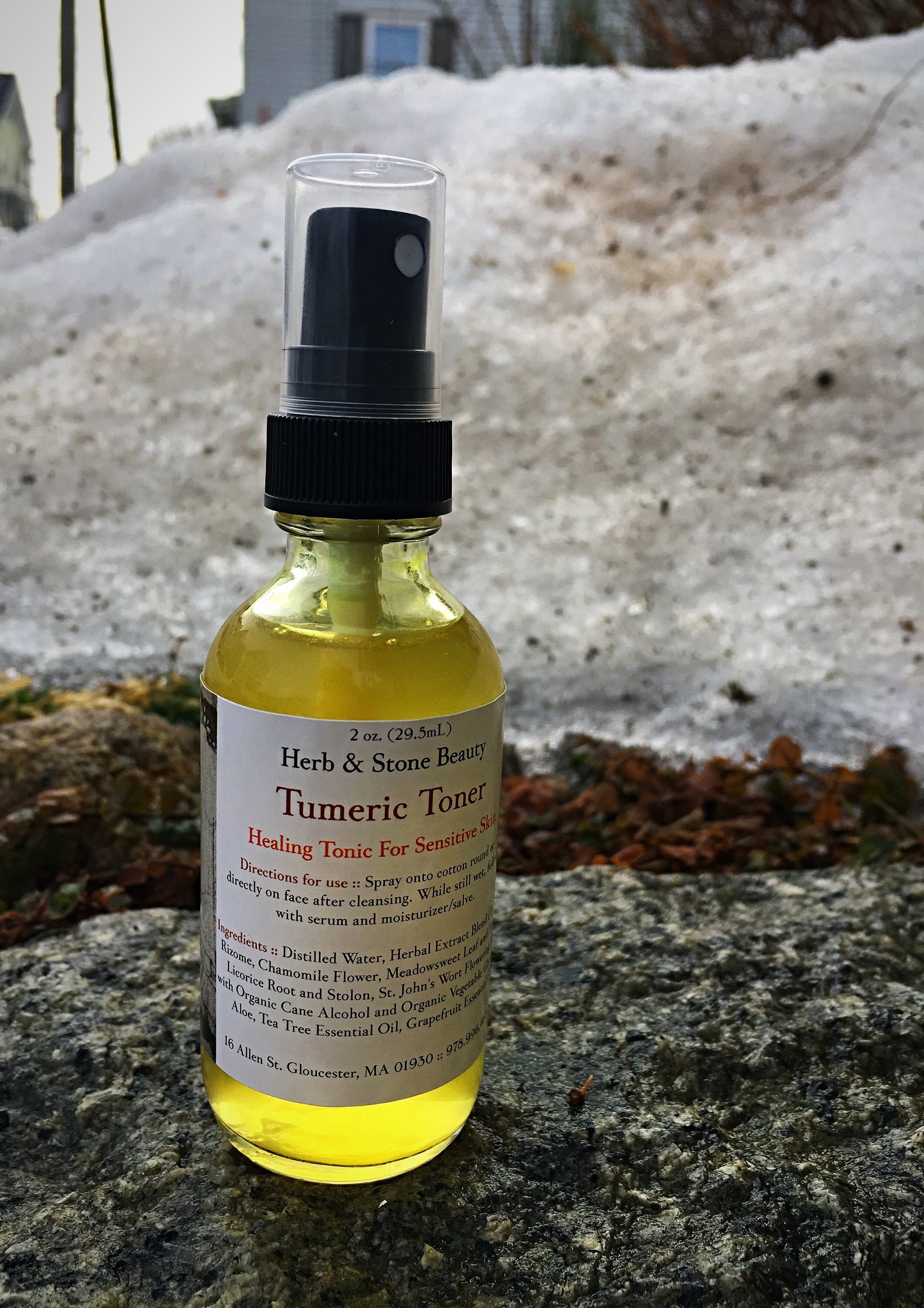 This toner is great for sensitive skin-it is made using an herbal extract of Tumeric, Chamomile, Medowsweet Leaf, Licorice Root and St. Johns Wort-herbs used for skin health, naturally anti-inflammatory and calming. The toner gets its yellow color from Tumeric-you may have it in your spice cabinet. Long used in Indian and Middle Eastern cooking, Tumeric is peppery and a beautiful golden color.
Other ingredients for your very good health include: Aloe, Tea Tree Essential Oil, Grapefruit Essential Oil, and Vegetable Glycerin.
Please note, extracts are made using alcohol to distill and "extract" nutrients and the essential compounds from dried or fresh herbs; in this case organic cane alcohol is used in this prepared blend from Herb Pharma, so this toner is NOT alcohol-free! It does NOT include witch hazel however, as my other toners do because Witch Hazel is a powerful astringent that can be over-drying for sensitive skin.
Spray directly on your face or apply with a soft cotton pad.
Packaged in a 2 oz glass bottle with mister, Mister. $10