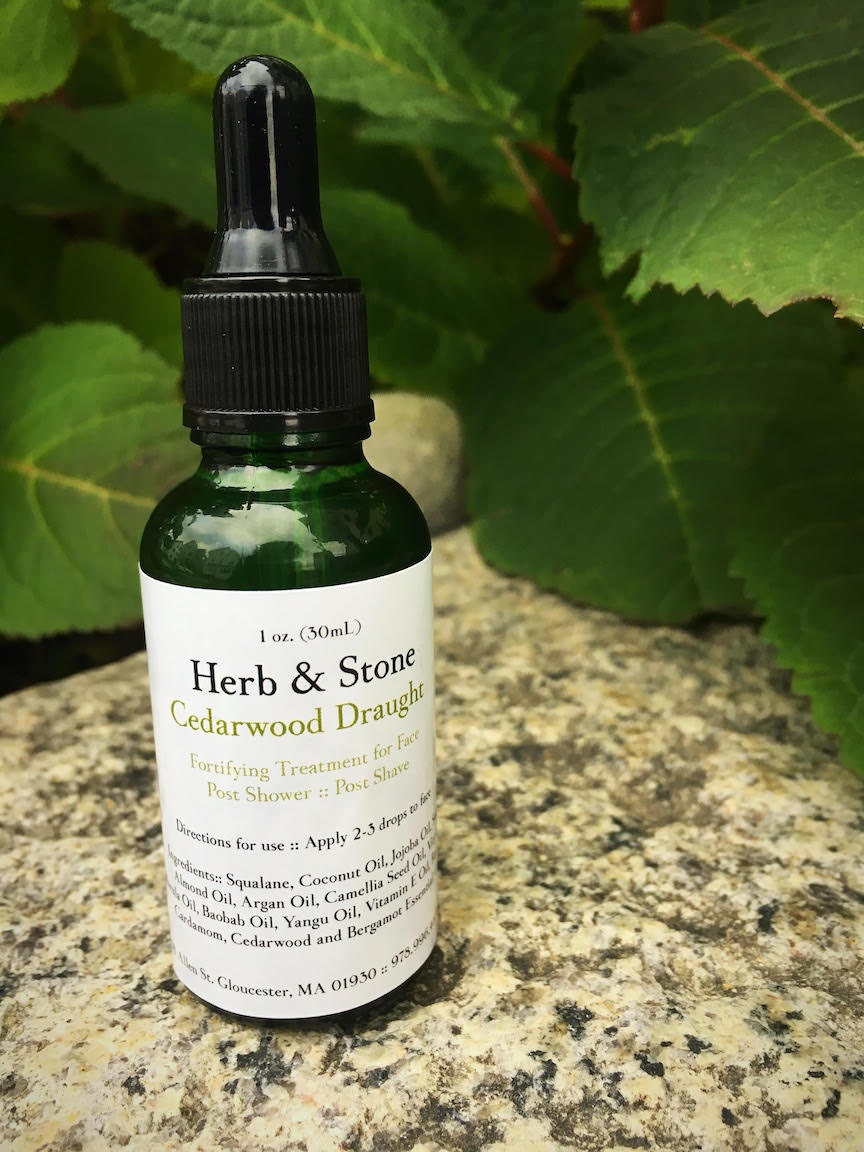 Men friends: I know there are some wonderful companies out there, which sell really great products for you...Keihls, Prospector and Co, Ursa Major...all of them my husband has used and loved. He too, after age 40, decided he needed to take better care of his skin, especially his face/beard. I spent a lot of time looking over these products he likes, smelling them, reading about them, visiting their home web sites and so, as a gift to him, I decided to try to formulate some special items for men. What follows are 2 delightful products that are pleasing to him (and me as well). Give them a try...
First up: Cedarwood Draught. Thanks to my good friend Josh Holland for helping me come up with that name...It is to be used after cleaning your face, apply a few drops and rub the treatment in: good for smoothing and hydrating, and delivers powerful antioxidants and vitamins to your skin, improves elasticity and calms irritated skin. FEED YOUR SKIN. It will be happier. This draught includes some amazingly fortifying special oils: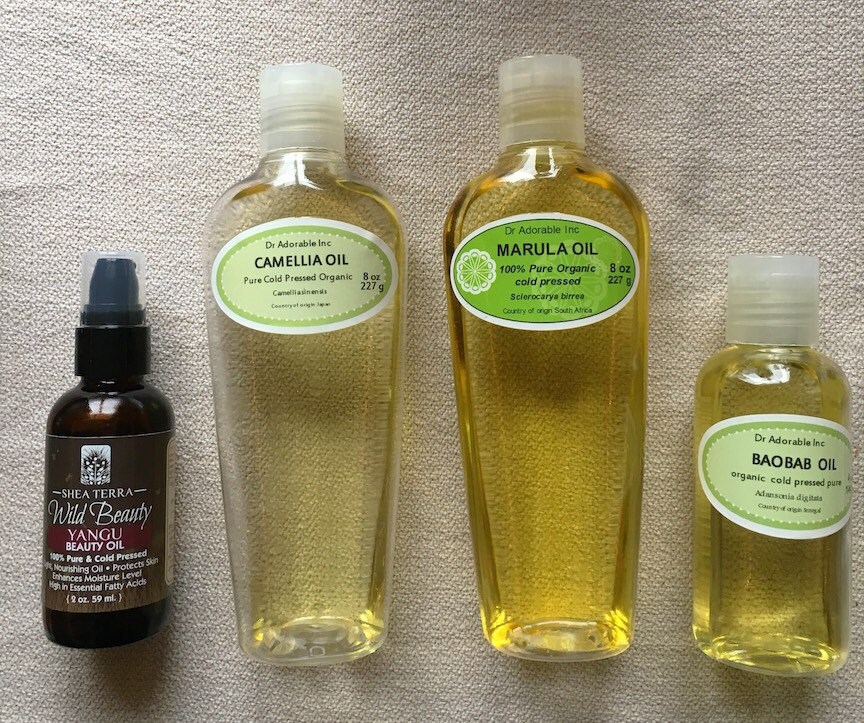 Yangu Seed Oil  is made in Kenya, from the seeds of the Cape Chestnut Tree, and has long been used by the Maasai people as a lightweight but potent, anti-aging oil packed with anti-oxidants and essential fatty acids which inherently offer UV light protection. 
Camellia Seed Oil originates in Japan and China, and is also know as "Tea Seed Oil." It is highly therapeutic, with anti-oxidant, anti-inflammatory, anti-microbial and anti-fungal properties. It is very light, quickly absorbs into skin and is highly moisturizing.
Marula Oil is from the nuts of the marula trees, which grow wild in South Africa. Long used by South Africans for its medicinal properties, Marula oil contains large amounts antioxidants, Vitamin C and E as well as and essential fatty acids Omega 6 and 9. It is also an extremely light-weight, non-greasy oil, and is able to deeply penetrate the layers of the skin and lock in moisture and improve skin elasiticity.  It is especially good for nourishing sun damaged and dry skin. 
Baobab Oil is made from the fruit of the Baobab tree, which grows in many parts of Africa; the particular brand I use is from Senegal. This oil is silky smooth and has a huge amount of nutrients, including Vitamin C, which boosts collagen production to restore and tighten mature skin. Baobab oil is also very light, making it ideal to apply to senstive facial skin. It is very good for nourishing dry and damaged skin.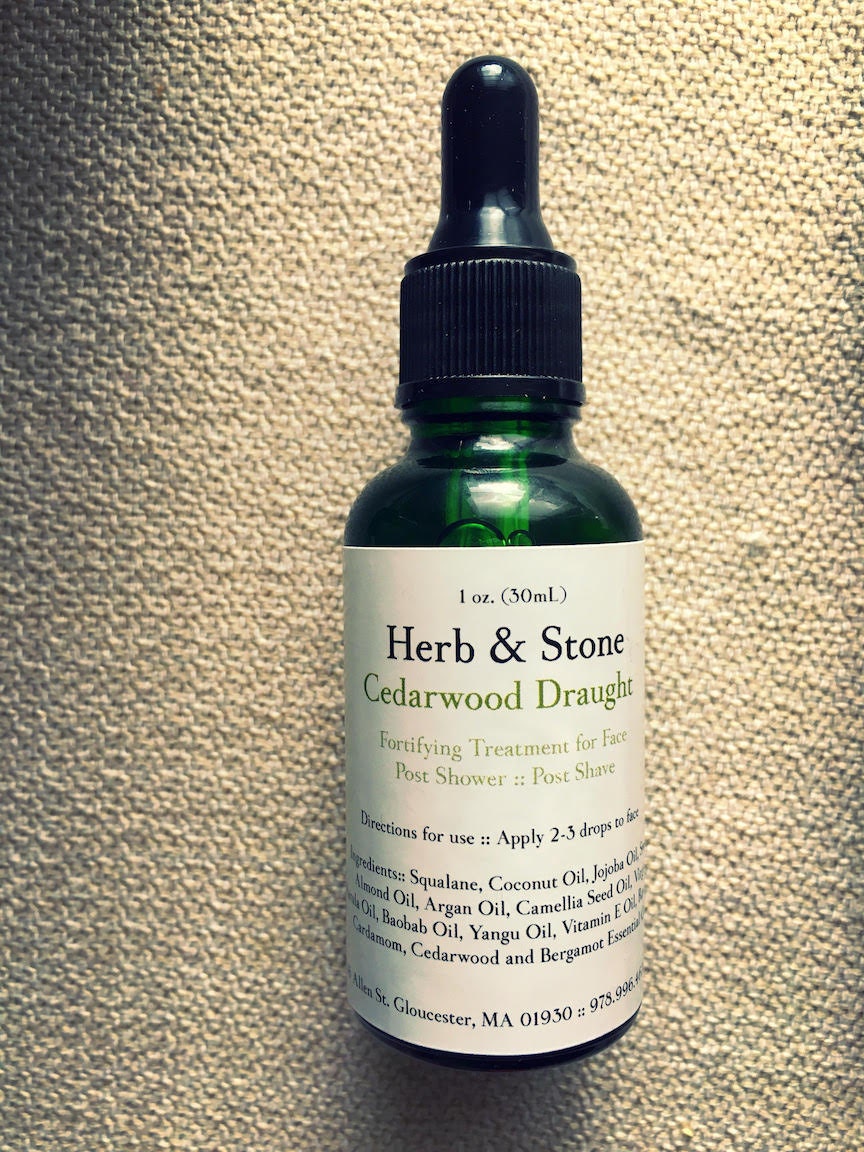 In addition to the powerful oils mentioned above, essential oils are added and provide a great scent: not overpowering, woodsy and a bit spicy: Ravensara (kind of licorice/sweet mint), Cardomom (spicy/autumnal), Atlas Cedarwood (woodsy), and Bergamot (with lime notes). My friends who have tried it, have all praised it's smell which lingers only gently on your skin-it's not a cologne. 
Cedarwood Draught: $22.oo/1 oz. green glass bottle
Next: Herb and Stone Raven Bay Shave Oil: 
I love this stuff: It contains a light but hydrating base of Grapeseed, Avocado and Kukui Nut Oil which create a smooth and non-irritating surface for shaving. Combined with raw, spun honey and pure organic castile soap this shave oil is creamy, and rinses easily-won't clog pores or razor. Simply squirt out a pump or two, rub onto skin and get the razor rinsed and moving. It provides a nice smooth, matte finish and leaves skin hydrated to boot. Rinse face and pat dry with a towel, and BAM. Ready for the day. Its scent is similar to Cedarwood Draught (above), but also contains the more earthy/fresh scent of Bay. Great for men and women.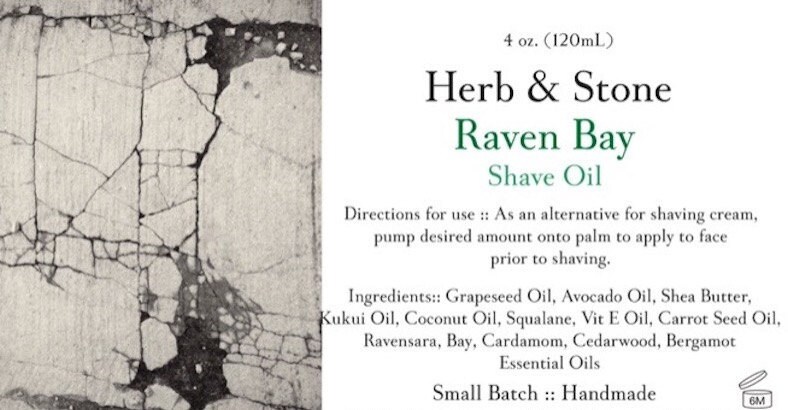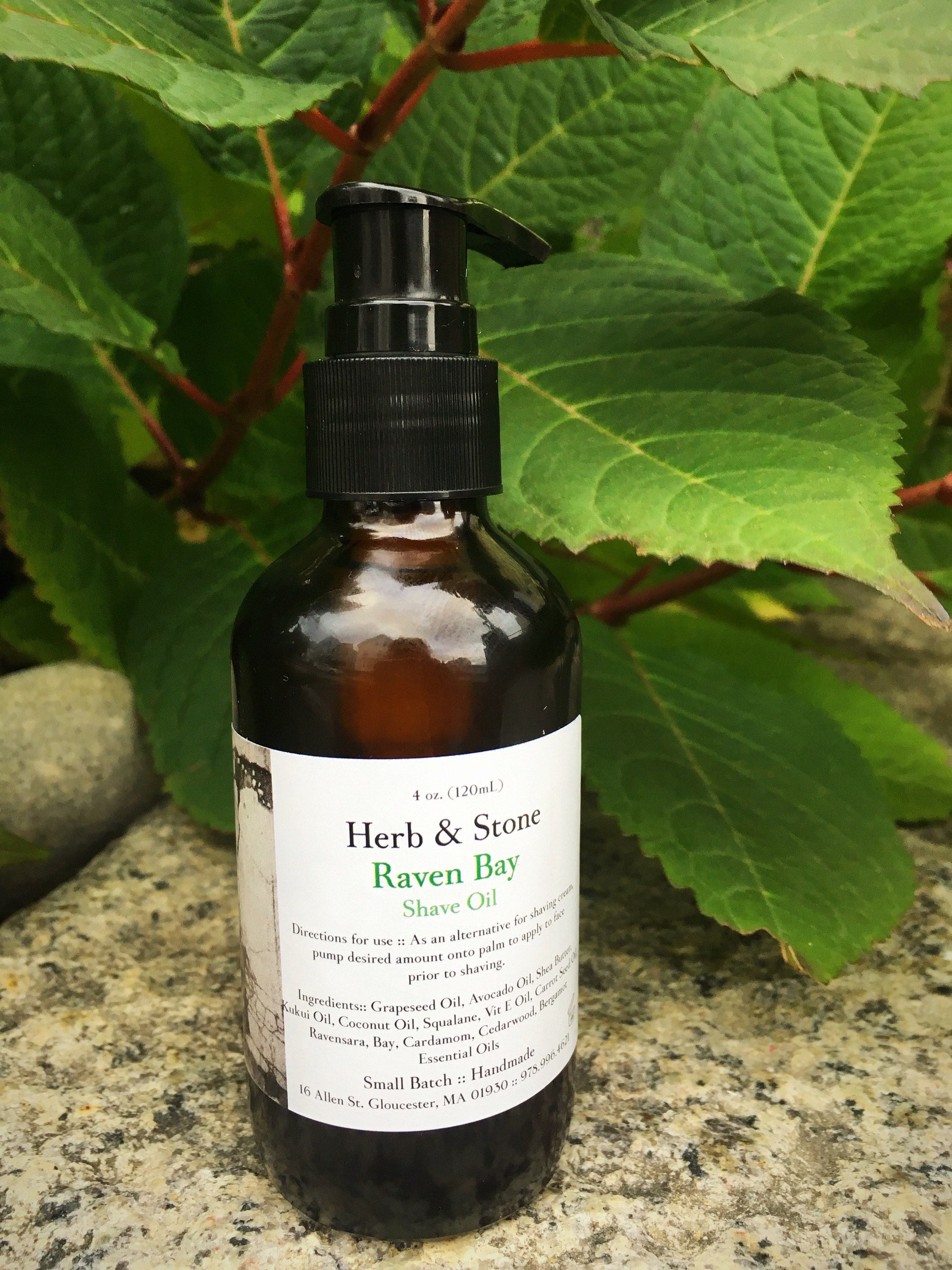 Raven Bay Shave Oil: $32.oo/4 oz. amber glass pump bottle