For my 40th birthday, I gathered some super fancy ingredients in order to create a facial balm and serum using Blue Tansy Essential Oil.  I am completely in love with both these products and am very pleased to add them to the Herb & Stone Beauty collection. This essential oil is very precious, costing upwards of $35 for FIVE MILLILITERS (thanks, Mom!!). However, one or two drops was enough to turn a bottle of facial oil or a jar of balm into the beautifully fragrant, uplifting and colorful products that I've named "Immortal Blue" and "Blue Facial Serum." Blue Tansy Oil is a relative of the Chamomile flower (which explains a bit why I must love it), and contains the Chamazulene, which is a chemical formed by this plant when exposed to heat during the distillation process of creating essential oil.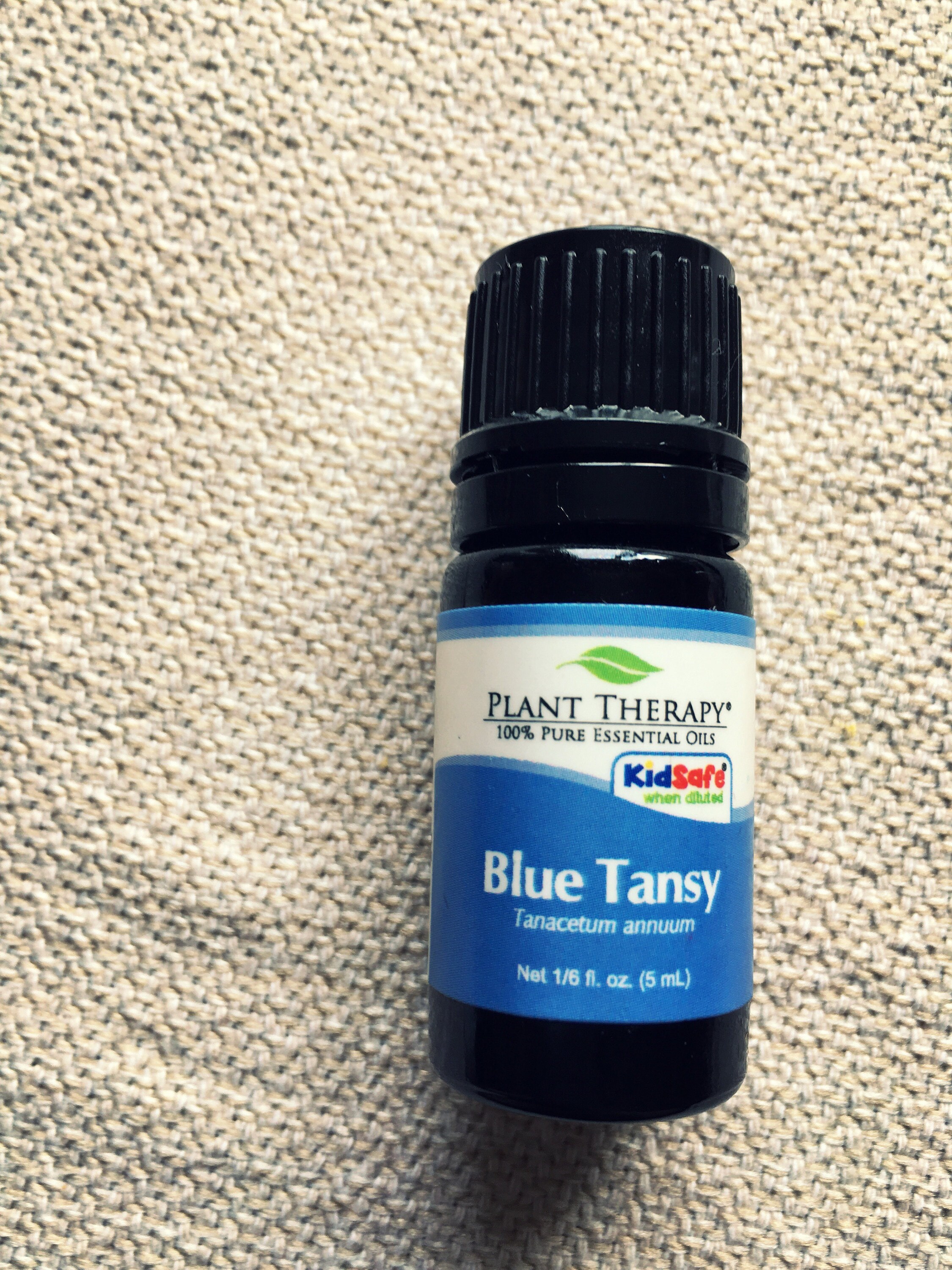 When I first sniffed this small vial, I was dismayed to find it's pure scent a bit too potent.
H O W E V E R. 
When combined with the other ingredients, it completely transformed and mellowed into the heady soothing scent I was able to make in both "Immortal Blue" and "Blue Facial Serum." Oh my. I literally grab the jar and smell even when I don't need to use it, just to smell something so beautiful. 
Both of these facial treatments include several precious, exotic oils: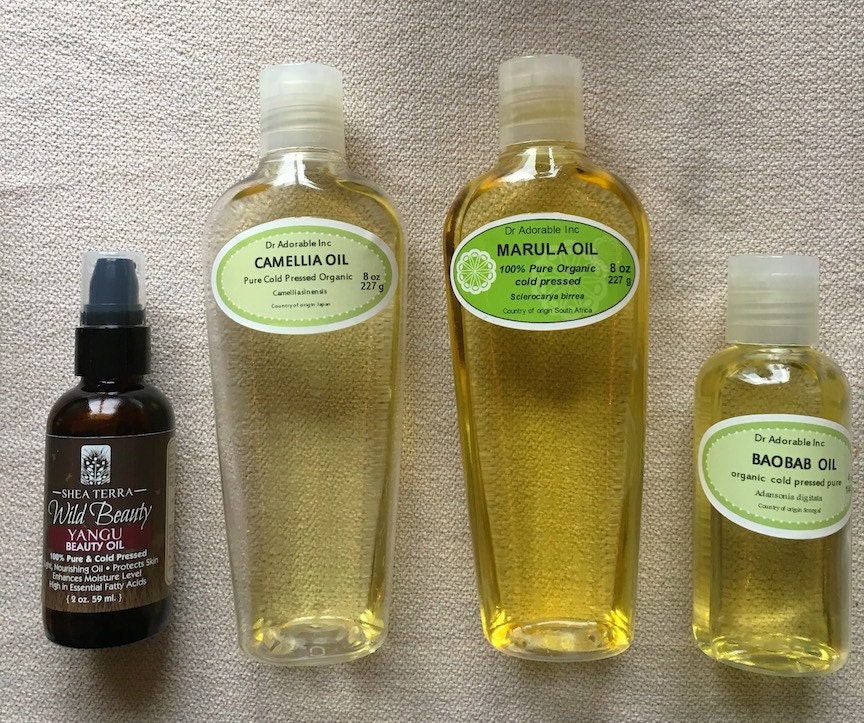 Faaaaancy Oils
Yangu Seed Oil  is made in Kenya, from the seeds of the Cape Chestnut Tree, and has long been used by the Maasai people as a lightweight but potent, anti-aging oil packed with anti-oxidants and essential fatty acids which inherently offer the skin UV light protection. 
Camellia Seed Oil originates in Japan and China, and is also know as "Tea Seed Oil." It is highly therapeutic, with anti-oxidant, anti-inflammatory, anti-microbial and anti-fungal properties. It is very light, quickly absorbs into skin and is highly moisturizing and softening. 
Marula Oil is from the nuts of the marula trees, which grow wild in South Africa. Long used by South Africans for its medicinal properties, Marula oil contains large amounts antioxidants, Vitamin C and E as well as and essential fatty acids Omega 6 and 9. It is also an extremely light-weight, non-greasy oil, and is able to deeply penetrate the layers of the skin and lock in moisture and improve skin elasiticity.  It is especially good for nourishing sun damaged and dry skin. 
Baobab Oil is made from the fruit of the Baobab tree, which grows in many parts of Africa; the particular brand I use is from Senegal. This oil is silky smooth and has a huge amount of nutrients, including Vitamin C, which boosts collagen production to restore and tighten mature skin. Baobab oil is also very light, making it ideal to apply to senstive facial skin. It is very good for nourishing dry and damaged skin.
Add to this the ever delightful and richly nourishing Cocoa and Shea butters as well as my beloved Squalane (derived from olives) and Argan oil (that famous oil derived from a moroccan nut), and the "Immortal Blue" stabalizes into a luscious melty balm.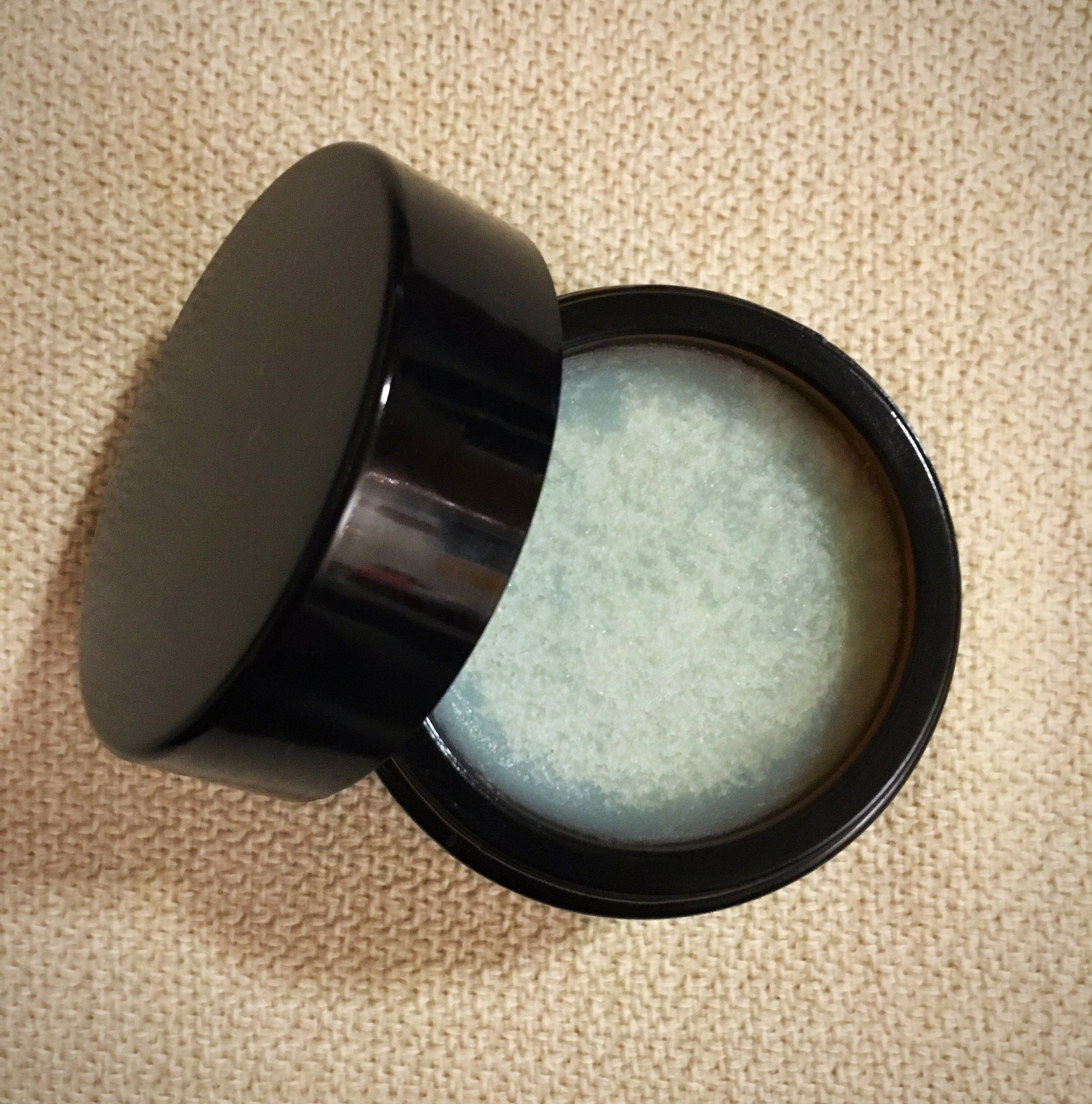 In addition to Blue Tansy Oil, "Immortal Blue" contains some other lovely essential oils and extracts. 
Ravensara, which is my other new favorite essential oil whose name I adore, smells a bit like licorice, a bit like peppermint. Even in its concentrated form, I couldn't stop smelling it when I first opened the bottle.  It is native to Madagascar and is used in aromatherapy to benefit the respiratory system. 
Lavender is commonly used to calm the mind and soothe irritated skin. 
Myrrh oil, from Somalia, is also commonly used meditatively in religious ceremonies as an incense. 
Helichrysum, (or Immortelle, as it is also called), is the ingredient for which this balm is named. It grows throughout Mediterranean lands; the vial I have is from Croatia. It is proported to have superlative anti-aging and skin-healing properties. 
Geranium Rose Oil originates in South Africa and used to calm body and mind. 
Vanilla Extract which I make yearly by infusing vodka with madagascar vanilla beans rounds out the florals and spicier notes nicely. 
And lastly, for "Immortal Blue" Schisandra Berry Extract, also called "five flavor berry" is used for it's stress and fatigue-reducing properties. It has a bright fruity scent and is a deep maroon color. 
* * * * * * * * * * * * * * * * * * * * * * * * * * * * * * * * * * * * * * * * * * * * * * * * * * * * * * *  
On to discuss the "Blue Facial Serum," which uses all the same exotic precious oils in addition to Squalane, Coconut, Jojoba and Sweet Almond Oil. No butters are added, to keep this serum liquid. Essential oils are simplified: Blue Tansy is of course used, but this time Rose and Jasmine are the balancing oils, bringing out the flowery tones of the Tansy. Schisandra Extract is also used, and helps balance out the relaxing scent.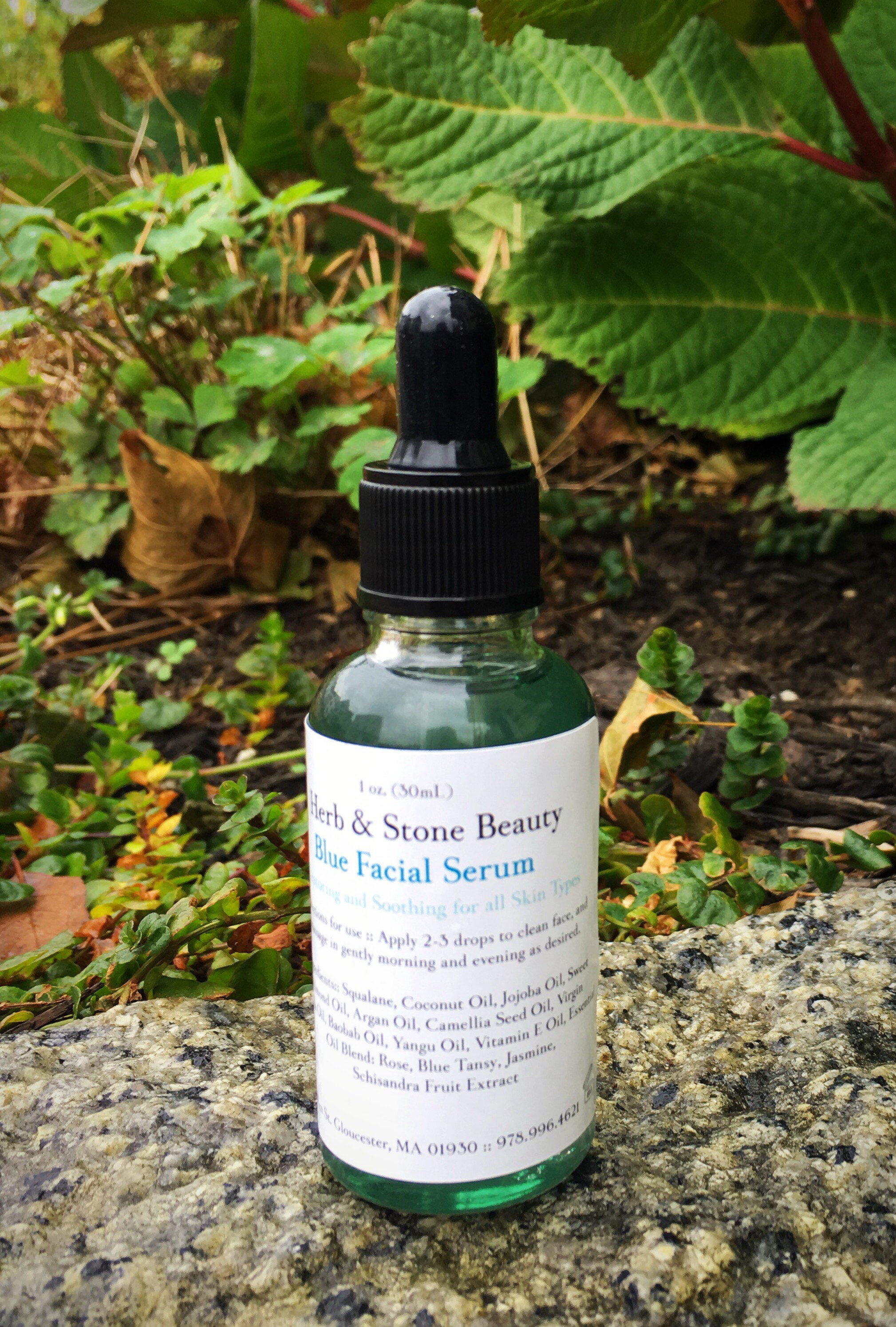 This serum is to be applied after cleansing your face. Only 2-3 drops is needed to moisturize your entire face.