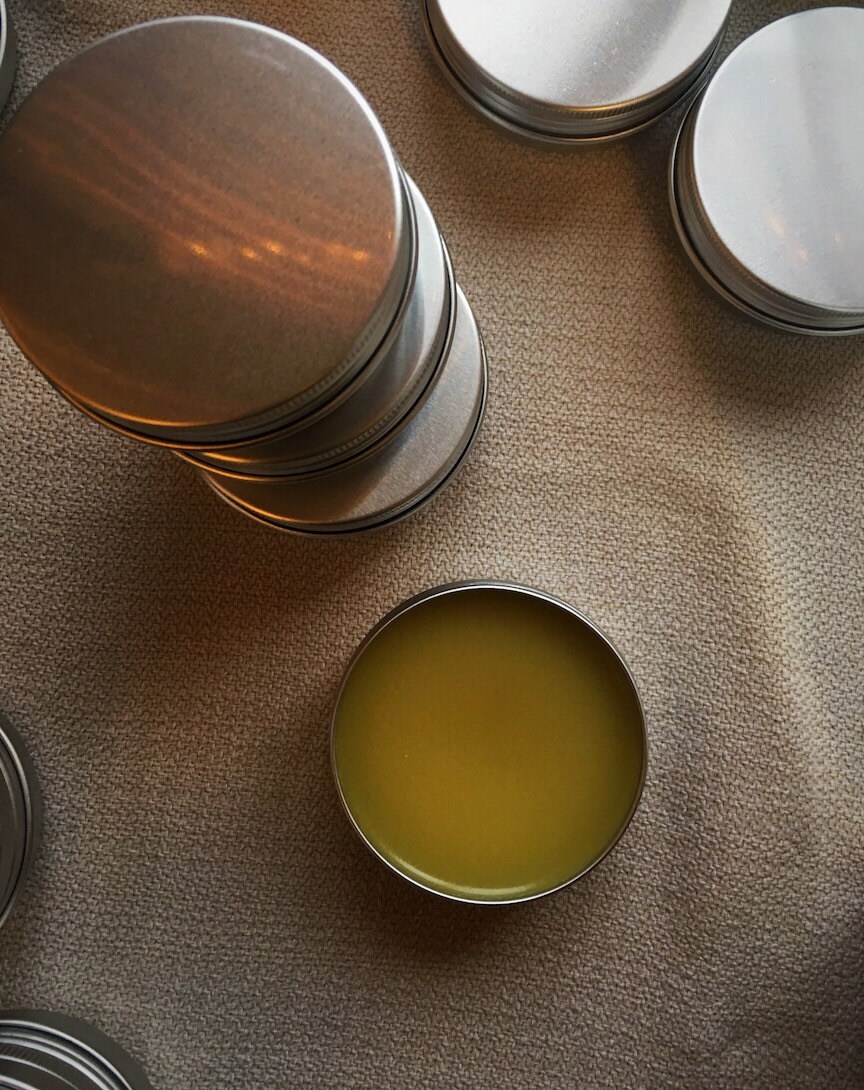 I'm somewhat new to the healing beauty of herbs...I did grow up with a mother who loved to put her hands in the dirt; her gardens were always bountiful and many summers my snack was a trip to the vegetable patch. 
A few years ago sister-in-law introduced me to the herb Arnica as a remedy for sore muscles. When I picked a tube of "arnica gel" at my local health food store, it was effective but STINKY. I had no idea how beautiful dried arnica flowers really smelled until I made my own batch of this delightful herb-infused oil. Now my kitchen smells like fresh mown grass and warm whole wheat bread...not much smells better to me.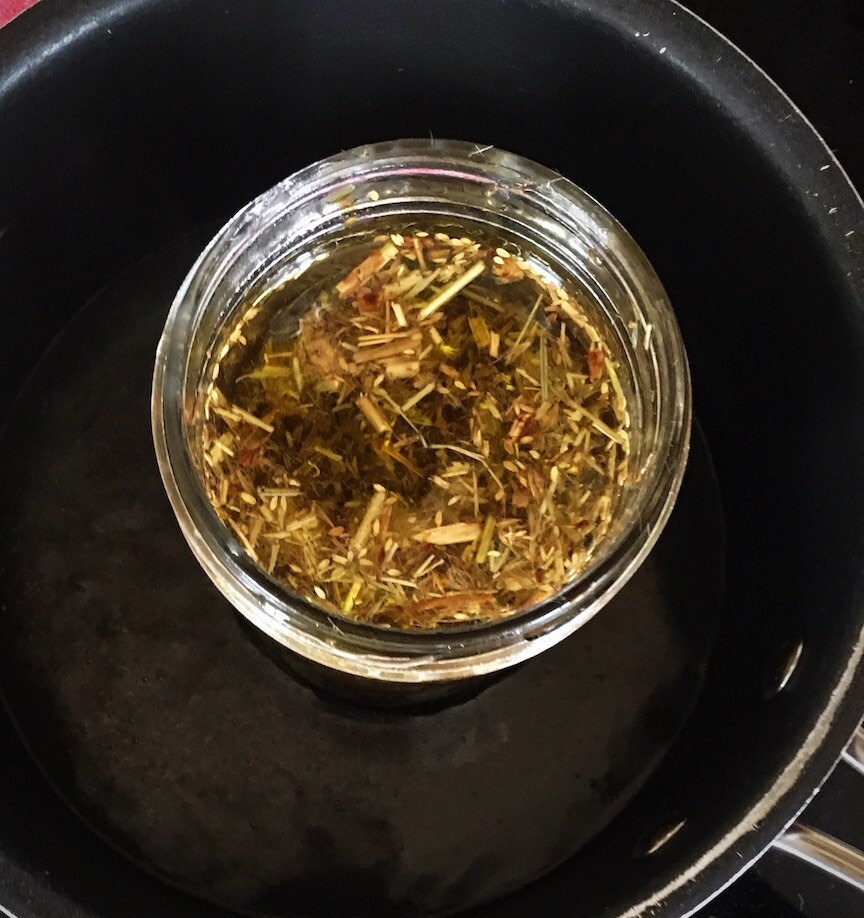 Infusing oils is time-consuming, but well worth the effort. I enjoyed purchasing the organic dried herbs and deciding which oils I wanted to use for this salve. I chose Grapeseed and Avocado because they are super nourishing and easy to obtain. My double boiling method is just a pyrex measuring cup placed in a pot of water-I cook the herbs gently over low heat for 3-4 hours and then strain out the oil-soaked herbs. What is left is a fragrant, warm oil that when combined with beeswax, a combination of Jojoba, Sweet Almond, Coconut and Apricot Seed oils, make a deliciously smooth and easily absorbed salve that can replace that stinky gel.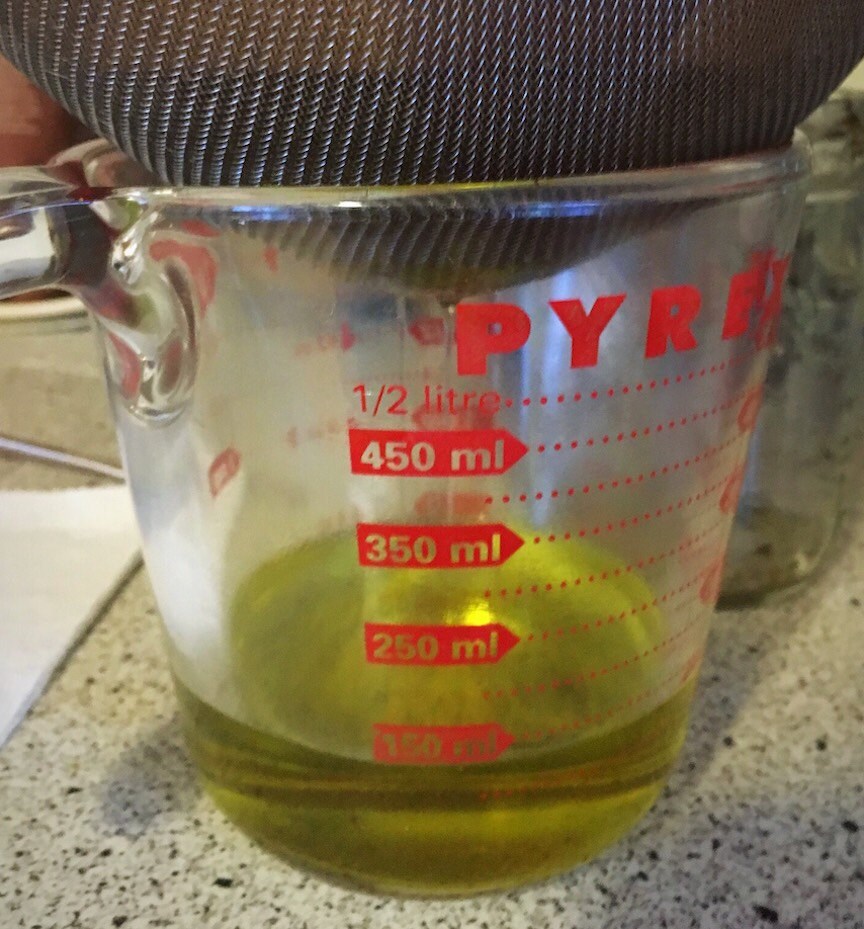 Infused into this lovely salve are several (essential) essential oils:
Peppermint: Commonly used in medicinal salves for it's anti-microbial properties and ability to provide a cooling, calming sensation when applied topically. 
Eucalyptus: A deodorizing oil used for respiratory healing. 
Wintergreen: Harkens back to gathering of "tea berries" in the field near my childhood home, a sweet minty scent, calms down the harsher, brighter mints of peppermint and eucalyptus. 
Ravensara: Sourced from Madagascar, this oil has an almost intoxicating licorice and sweet minty scent which provides such a pleasing aroma, especially combined with beeswax. 
Tea Tree: Originating in Australia and long used for it's anti-microbial and anti-inflammatory properties.
Tumeric Extract: Yellow and peppery, this extract from Tumeric root is a powerful anti-oxidant. It's primary use in this salve is to alleviate pain and inflammation. 
St. John's Wort: Dried plant material also infused with Arnica to combat pain and inflammation. Historically it has also been used to uplift moods and has anti-viral properties. 
All these statements are rooted in herbalism research, not FDA approved or whatever. Don't sue me if it doesn't work for you! 
Coming soon, to Herb and Stone Beauty!